Rajasthan health department deploys team at Jaipur Lit Fest
Updated on Jan 25, 2018 10:10 PM IST
The team is screening people for influenza like illness.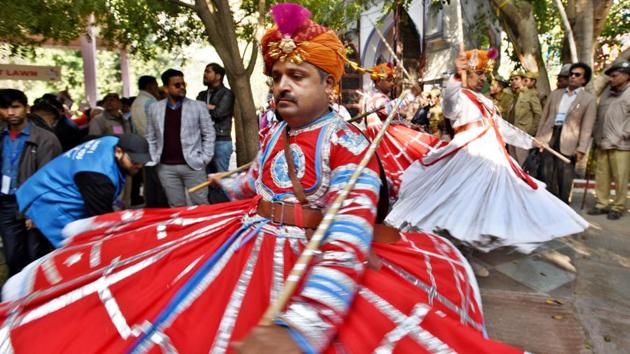 Keeping in mind the increasing number of swine flu cases in the state, the health department has deployed medical staff at the Jaipur Literature Festival (JLF), the five-day jamboree that kicked off Thursday at Diggi Palace in Jaipur.
Additional director (rural health) Dr Ravi Prakash Mathur said the department has taken precaution and deployed 108 Ambulance with staff. Even CK Birla Hospital has put up a team inside the venue to create awareness about swine flu, he added.
The team is screening people for influenza like illness (ILI) and those with any symptoms are immediately being taken to the ambulance, where mask and medicines are being given, Dr Mathur said.
Moreover, two banners have been put up at the festival to create awareness about swine flu. Pamphlets about the disease are also being distributed.
Chief medical and health officer (I) Dr Narottam Sharma said, "In such a big gathering it is necessary to take precautions. Therefore, a medical team has been deployed, which will remain at Diggi Place for five days."
From January 1 to 24, around 559 swine flu cases have been reported in the state, which includes 33 deaths. The maximum number of cases (403 ) have been reported in Jaipur.
Dr Mathur said the organisers of JLF have been given a CD that contains dos and don'ts about swine flu, which they will show on the LCD screens. He also appealed to the people with ILI symptoms to avoid going to public places, wear a mask and immediately consult a specialist.
Meanwhile, Jaipur district administration on Wednesday issued order to stop prayer sat all government and private schools in the district. Officiating district collector Alok Ranjan directed all the district education officers not to let government and private schools organise morning prayers for next one week looking at the spread of swine flu.
Raje gives JLF opening a miss
A regular to the Jaipur Literature Festival, Rajasthan chief minister Vasundhara Raje, who was scheduled to inaugurate the gathering on Thursday morning, gave it a miss.
With inputs from IANS