Rajasthan to install 10,000 solar pumps, appoint 900 vets next fiscal
Mar 27, 2017 07:18 AM IST
The state government will install 10,000 solar pumps in 2017-18 at a cost ₹395 crore, agriculture and animal husbandry minister Prabhu Lal Saini told the assembly on Tuesday
The state government will install 10,000 solar pumps in 2017-18 at a cost ₹395 crore, agriculture and animal husbandry minister Prabhu Lal Saini told the assembly on Tuesday.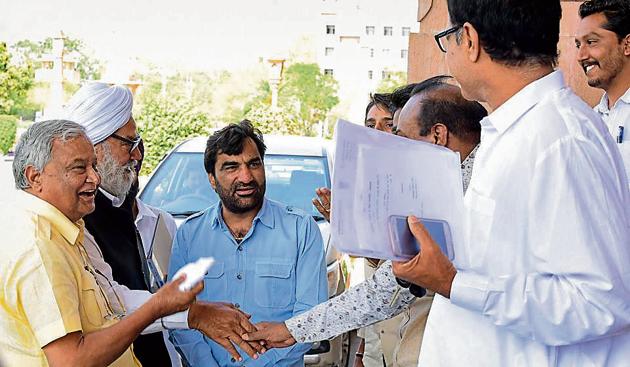 Till now, only 3-5 horsepower (HP) pumps were included in this scheme, but now pumps of 7.5-10 HP will be included, he said. The minister said 35.52 lakh farmers have been provided soil health cards and soon cards will be provided to the remaining farmers.
Saini said organic farming is being encouraged in the state under traditional agriculture development scheme. At present organic farming is done on 65,000 hectares and efforts were being made to increase the area.
He also announced that 900 veterinary doctors and 4,000 livestock assistants will be recruited and a subsidy scheme will be implemented to help farmers in setting up agriculture product processing and value addition unit on their own fields for post harvest management and value addition through processing technique. In this scheme, subsidy of 50% or maximum up to ₹20 lakh will be given on the project approved by banks.
Under Chief Minister Foreign Training visit, progressive farmers will be sent abroad for training. Farmers from general category will be given 50% subsidy of the total expenses while farmers from SC/ST will be given 75% subsidy, he announced. Saini also announced to make Krishi Upaj Mandi Samiti at Kishangarh Madanjgarh in Ajmer district as a special mandi for pulses.
Drip and mini sprinklers will be installed on 30,000 hectares in the forthcoming financial year, green house and shade net house will be set up on 5.75 lakh square metres area, ₹50,000 will be give for the marriage of daughters of licensed labourers under Mahatma Jyotiba Phule Labourer Welfare Scheme, he said.
Besides, subsidy will be given on machines and equipments used in post harvest management and value addition in which 50% subsidy will be given on garlic separator machine, solar dryer, grain cleaning and categorisation machine, soya paneer processing unit, potato peeling and chips making machine, the minister said.
Drive to curb illegal power connection
Parliamentary affairs minister Rajendra Rathore told the assembly that an investigation was launched into illegal electricity connections at urban slum in Amroodon Ka Bagh in Jaipur. He assured the house that if any illegal electricity connection is found then vigilance team would be sent and action will be taken against the person.
He was replying on behalf of the minister of state for energy on a question asked by MLA Alka Singh during Zero Hour. Singh wanted to about the illegal power connections at the area.
Rathore said the plot on which the slum area has come up is disputed and the Supreme Court on November 13, 1992 had appointed a former judge as receiver and administrator.
In 1995, another judge from Gujarat was appointed as receiver and without the judge's no objection certificate, electricity connection cannot be given in the area.