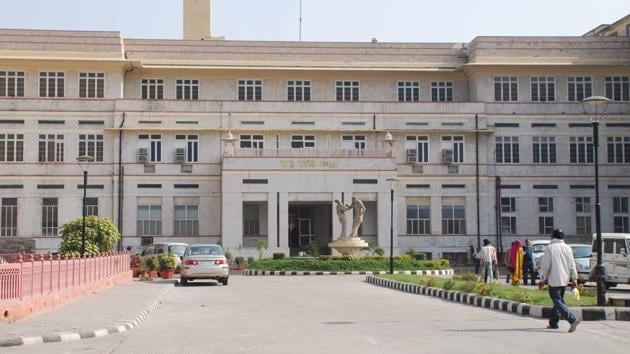 SMS Hospital notes patient's religion for OPD service
The mobile application was launched on January 26 and so far 2153 patients have used it for booking appointments at OPD.
UPDATED ON APR 05, 2018 08:58 PM IST
Patients are asked to mention their religion while booking an appointment with a doctor at Sawai Man Singh (SMS) Hospital on a mobile application.
Reacting to this practice at the state's biggest hospital, Rajasthan Pradesh Congress Committee vice-president Archana Sharma said, "If the hospital has done any research, or is benefitting society by collecting this data, then it is fine, but if religion is being asked as a formality, then it will create suspicion among people."
SMS Hospital medical superintendent Dr DS Meena said, "Asking religion is a very common practice worldwide. Religion is asked even while lodging FIRs, and in courts. Why so much of fuss if patients are asked about their religion?"
He added, "Religion of a patient is noted while he or she is admitted in the hospital. Now it has been started for OPD service too -- initially on mobile application, and later it will be noted at the registration counter."
Tracking religion of patients will help in diagnosing common diseases found in that community, Meena said. "It (asking for religion) is also being done for statistical categorisation. The data will help in analysing the diseases and in research."
The mobile application asks for date, name of the patient, sex, age, religion, country, state, district, tehsil, address, pin code and mobile number for booking an appointment with a doctor at the outpatient department (OPD).
The mobile application of SMS Hospital was launched on January 26 and so far 2153 patients have used the app for booking appointments at OPD. "After booking an appointment for a particular doctor, a registration number is generated on the mobile number. Once this is shown at the fast track registration counter, a registration slip is given," Meena said.
"Certain diseases are common among certain religion; if the same disease is noticed in other religion, then the administration can be put on alert."
Mention of country helps in keeping data of patients coming from other countries for treatment, he said. "It helps us know the prevailing diseases there and same applies for within India too. The hospital will have data, which can be analysed for various diseases prevailing in various religions."
Outside the Dhanwantri OPD, a waiting-cum-registration area will be in place in a couple of months. "Here there will be 30 counters, two for inquiry and 28 for registration. The air-cooled waiting area will accommodate 100 patients and there will be sections for senior citizens and disabled persons," Meena said.
Close