Tinder date killing: Police probing if Priya Seth's boyfriend has criminal history
The police are investigating if Dikshant Kamra (20), Priya Seth's boyfriend and an accomplice in the alleged murder of a Jaipur businessman last week, had any criminal history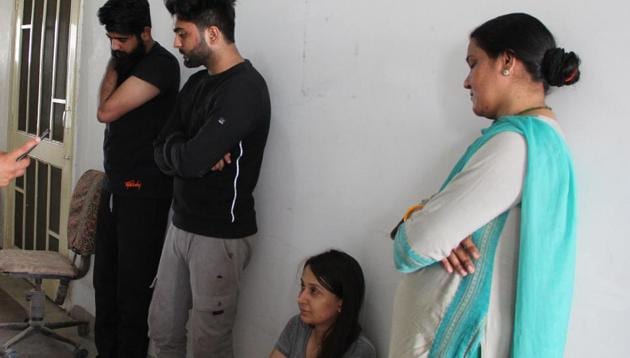 Published on May 08, 2018 10:31 PM IST
The police are investigating if Dikshant Kamra (20), Priya Seth's boyfriend and an accomplice in the alleged murder of a Jaipur businessman last week, had any criminal history.
Priya, Dikshant, and his friend Lakshya Walia are in police custody since May 4 for the murder of 27-year-old Dushyant Sharma after Priya befriended him on mobile dating application Tinder. Priya had three other cases against her for blackmailing, prostitution and trying to loot an ATM before the latest one of murder.
"Dikshant lived in Mumbai for 2-2.5 years and I think he is not telling us clearly what he used to do there. He says he used to work in films and television serials but considering his pricey clothes and accessories, we suspect he was involved in some illegal business," said Gur Bhupendra Singh, station house officer, Jhotwara police station.
Jhotwara police have requested their counterparts in Mumbai to furnish information about Dikshant's background and if he has any criminal history. Police also enquired about Dikshant at the Padampur police station in Sri Ganganagar from where he hails, but found no criminal record against him.
In the recent case, Dikshant claimed that Priya stabbed the businessman in Jaipur, but the police say it was he who carried out the attack. Dushyant was stabbed 11 times at his throat, bundled up in a suitcase trolley and left at a secluded place in Amer on May 3.
The police also suspect that Dushyant might not have reached the apartment on his own but was rather picked up by the trio on way through coaxing. "We think so because the victim left his house saying that one of his vehicles carrying river sand has been seized by the police. He was engaged in the mining business," said the Jhotwara SHO.
Priya and Dikshant used to consume cocaine, marijuana, and alcohol, police said. Priya was also a chain smoker and squandered all the money she got from duping people on pursuing a lavish lifestyle. The police said Lakshya was at the spot when the crime occurred, and also went with Priya and Dikshant to dump the body, but his role in the murder seems to be peripheral.
The police have the trio in custody till May 11, but will probably seek custody of Priya and Dikshant for a few more days for interrogation.
Close Story