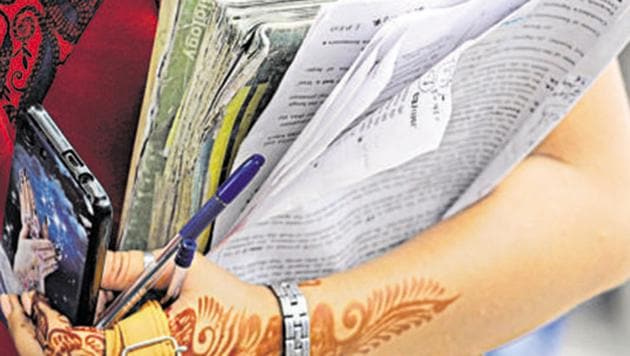 Welder's daughter clears NEET, thanks to scholarship, grandpa's pension
Vishakha Jadaun had no phone, was not on social media and did not meet friends for two years
Hindustan Times, Kota | By Aabshar H Quazi
UPDATED ON JUN 10, 2018 09:43 PM IST
No phone. No social media. No meeting up with friends for two years.
The three combined together may be the scariest thing ever for most youngsters today. But Vishakha Jadaun is not 'most youngsters'.
The 18-year-old daughter of a welder has overcome the biggest hurdle of them all — finances — to clear the national eligibility-cum-entrance test (NEET).
The aspiring neurologist said Rajasthan government's scholarship programme and her grandfather's pension helped her in clearing the NEET. She would be the first doctor from her family. Vishakha's mother is a graduate and housewife.
On Sunday she was meeting her close friends after a long time. She had distanced herself from them and did not even use a cell-phone for the past two years to concentrate on her studies. The separation, she said, was difficult.
"I am with my friends after my successful result in NEET. I had deserted them for two years for my studies," she said. Her maternal uncle has gifted her a cellphone on clearing the NEET on her second attempt with an All India Rank of 3,974.
A resident of Mahavir Nagar extension in Kota, Vishakha's father Himmat Singh has had no regular work for the last three years.
The pension that her grandfather Narsingh Lal, who worked as a driver at Rajasthan Atomic Power Plant, gets helps run the family.
Being in a city, known as the coaching hub of India, always appealed her. During the time she remained away from her friends, books became her companion.
"Study, study and study. This has been my passion since childhood," Vishakha said. "The journey to a decent career as a doctor has just begun with successful NEET result and all this has been made possible by government scholarships and support from Dadaji."
Studying in a private Hindi medium school, Vishakha obtained her first district merit in Class 10 in 2014 by securing 96.17 per cent marks. The triumph bagged her the state government's Priyadarshini award of Rs 75,000.
"The scholarship amount enabled me to get admission in a Kota coaching institute in 2016," Vishakha said.
The award honours girls who score the highest in their district in Class 10 and 12 exams of the Rajasthan board. The amount of the awards has since been increased to Rs 1 lakh.
In Class 12, Vishakha secured 84 per cent marks, prompting her to study Science (Biology) to become a doctor.
She, however, failed to secure admission in a reputed medical college on her fist attempt but she did not give up. Her family stood by her despite severe economic pressure.
Her grandfather came forward with his savings and she decided to move to Allen Career Institute that offered her a concession in fee.
"I am heartily thankful to the state government scholarships and coaching institute for concession in fee that paved the way for the success for my daughter. She is now going to be the first doctor in our family," Vishakha's mother Bhanwar Kanwar said.
Naveen Maheshwari, director of Allen Career Institute, said the state government and coaching institutes in Kota are committed to support students to fight against adversities and succeed. "Every talented student should achieve their target," he said.
Close