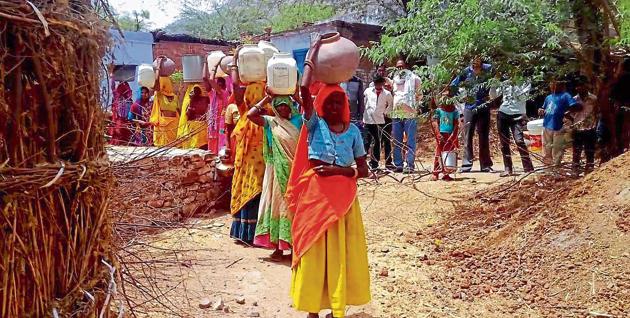 Women protest lack of water in Bharatpur
Hindustan Times | By HT Correspondent
UPDATED ON MAY 01, 2017 08:44 PM IST
Hundreds of women in Bharatpur protested the shortage of drinking water on Monday. The protestors dispersed after getting assurance from water department officials.
The protestors blamed officials of the water resource department for not providing drinking water to Mahamadpur village, under Sub-division Weir of Bharatpur, for a month.
The angry women claimed that the department has not been supplying water for a month and the wells in the area are dry.
Babekhar panchayat sarpanch Devendra Singh said that the locals have gone to nearby villages in search of water but most wells have gone dry because of the drought.
There are five villages — Mahamadpur, Maharajpura, Nagla Bhavla, Narauli and Navalpura — under the Babekhar gram panchayat. The panchayat has only one overhead water reservoir and it can hold water for 8,000 people, which isn't enough for the villagers.
Charan Singh, an assistant engineer with the water resources department said that water supply has been interrupted due to lack of electricity. "We need at least six to eight hours of power supply to provide water to the villagers," he said.
Laxman Singh, a resident of Mahamadpur village, said that the government had set up the Maharajpura-Narauli water project worth ₹70 lakh in 2014 to supply water to the panchayat, but the project has been unable to do so as the water level has fallen to 400 feet.
"We were happy when the project was sanctioned, but now we are disappointed as we are not getting water. We have complained to officials but they have not been able to solve our problem," said Mamta Koli, a villager.
"We used to approach nearby villages to get drinking water from their tube wells. But it's difficult to carry drinking water from a two kilometre distance in such heat. MPs and MLAs come here during elections but no one has come here to solve our biggest problem, water crisis," said Chandrakala Devi, another villager.
Close