25 years of Babri Masjid demolition: VHP, Bajrang Dal to leave Bengal out of the celebration map
Published on Nov 27, 2017 03:20 PM IST
In Bengal ruling Trinamool Congress, Left parties and Congress observe December 6 as a black day to protest against the demolition of Babri Masjid in 1992.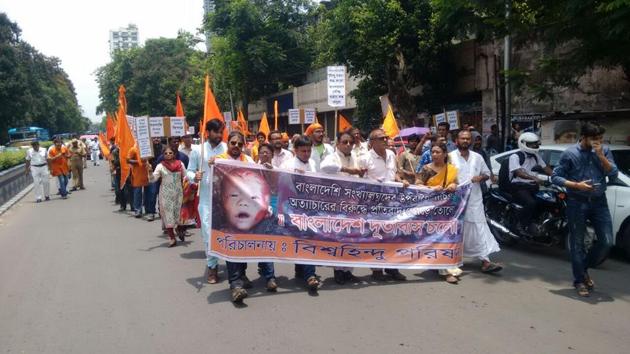 Vishwa Hindu Parishad (VHP) and its youth wing Bajrang Dal (BD) have left Bengal out of the nationwide map to celebrate 25 years of Babri Masjid demolition on December 6. The outfits have planned to celebrate the day as Shaurya Divas (Day of Valour).
Both VHP and its youth wing were involved in the demolition of Babri Masjid in Ayodhya in Uttar Pradesh on December 6, 1992.
Read: Spiritualism helped Hindus evade conversion during invasions, says RSS chief Mohan Bhagwat
"In Bengal, they all (read Trinamool Congress, the Left and Congress) observe December 6 as Black Day. Instead of confronting them, we would leave the field to them," Sachindra Nath Singha, who is in charge of VHP's Bengal, Assam, Sikkim and Andaman units told HT on Monday.
Singha, who recently paid a visit to Guwahati to finalise celebration plan there, said that Shaurya Divas will be celebrated in Assam with 'full valour'.
In Bengal, their only programme is the concluding ceremony of membership drive that started earlier in November.
Read: VHP distances itself from Sri Sri Ravi Shankar's bid to mediate Ram temple dispute
Chief minister Mamata Banerjee is a vocal opponent of the saffron camp and has lashed out at it on a number of times for the demolition of the masjid on December 6, 1992. "Bengal believes in harmony between communities. If somebody wants to celebrate Babri Masjid demolition, the people won't accept it," said Tapan Dasgupta, a minister in Mamata Banerjee cabinet.
In West Bengal, all major parties except BJP, observe December 6 as Black Day. This year, too, Trinamool Congress, the Left Front and the Congress have programmes across the state.
Leaders of these three parties are expected to use the occasion to lambast BJP, its ideological parent Rashtriya Swayamsevak Sangh, and VHP. Human rights organisations and some Muslim and dalit outfits, too, have scheduled agitation programmes in Kolkata.
Read: VHP plans rath yatra to create atmosphere for Ram temple
While the RSS does not conduct any event on Babri Masjid demolition anniversary, its student wing, Akhil Bharat Vidyarthi Parishad, will observe the day as Pratigya Divas to commemorate B R Ambedkar's death anniversary. They will take oath of maintaining social harmony.
Incidentally, in a programme organised in Karnataka by VHP on November 24, RSS chief Mohan Bhagwat has demanded that only a Ram Mandir should be constructed at the disputed site. His statement came just a few days ahead of the apex court beginning final hearing in the Ram Janmabhoomi case.
VHP state leaders were, however, in favour of organising a token event for the record in Kolkata's fringes. The outfit also kept their controversial Shastra Puja (weapon worship) on Bijoya Dashami a low key event in Bengal.
"VHP has working towards a target of enlisting 1 lakh members from Bengal including 20,000 from Kolkata between early November and December 6," said Sourish Mukherjee, state VHP spokesperson.
Personalise your news feed. Follow trending topics