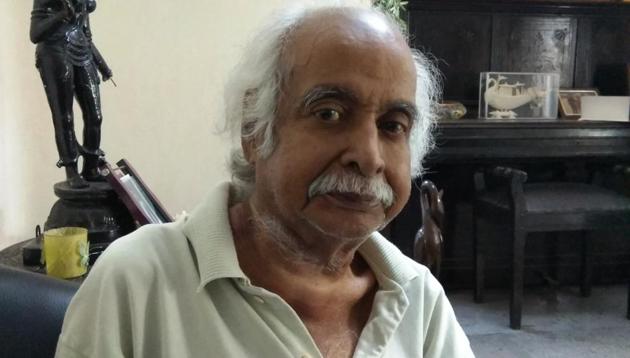 Asish Kumar Ghosh, ecologist who helped Sundarbans islanders survive effects of Aila, passes away
After retiring from Zoological Survey of India as its director 20 years ago, Ghosh, a Fullbright scholar, dedicated himself to research on water crisis, adaptation to climate change and sustenance after natural calamity
PUBLISHED ON APR 02, 2018 10:30 PM IST
A pioneering researcher on effects of climate change and natural calamity on life in the Sundarbans biosphere and the Indian sub-continent, Dr Asish Kumar Ghosh passed away at a private hospital in south Kolkata on Monday morning. He was 81 and a bachelor. Ghosh was detected with cancer last year.
After retiring from Zoological Survey of India as its director 20 years ago, Ghosh, a Fullbright scholar, dedicated himself to research on water crisis, adaptation to climate change and sustenance after natural calamity.
After the Sundarbans was devastated by cyclone Aila in 2009, Ghosh worked on the field with the affected people and launched several projects. Out of these, the revival of long-forgotten traditional paddy seeds that grow in brackish water, became a life saver.
With Ghosh, Bengal lost three iconic green crusaders in less than two months.
On February 16, Dhrubajyoti Ghosh, a UN Global 500 laureate and the first Indian recipient of the prestigious Luc Hoffmann award, died in the city. He introduced East Kolkata Wetlands to the world.
Dr Dipankar Chakraborti, the former director of School of Environmental Studies at Jadavpur University who conducted path-breaking research on ground water arsenic contamination in Bengal, the Gangetic basin and some Asian countries died on February 28.
Dr Asish Kumar Ghosh's research papers on food security, environment and climate change have been published in 10 countries, including UK, USA, Japan and Russia. He was part of the visiting faculty at Calcutta University and Jadavpur University.
Hindustan Times had the opportunity to talk to him at his south Kolkata residence on March 2. He was unwell and barely audible, yet patiently explained his past and ongoing projects for almost an hour.
"When I landed in the Sundarbans after Aila only five farmers volunteered to experiment with traditional paddy seeds. But getting preserved seeds that would germinate was the bigger challenge. It took me one year to collect these. Many organizations and individuals offered to help. Subsequently, farmers in five blocks joined the project," Ghosh said.
To help people in the Aila-affected Chhoto Mollakhali island, Ghosh also set up a 500 kilowatt power generation project that ran on firewood and a farm for medicinal plants. Till he was hospitalised for the last time, he was working on a training programme for climate refugees of the future.
Ghosh left behind his students, Centre for Environment and Development that he founded to encourage young researchers and Society for Environment and Development that won many national and international awards.
Close