By the time Bengal goes to polls, you'll be left alone, Amit Shah warns Mamata at Midnapore rally
By the time Bengal goes to polls, you'll be left alone, Amit Shah warns Mamata at Midnapore rally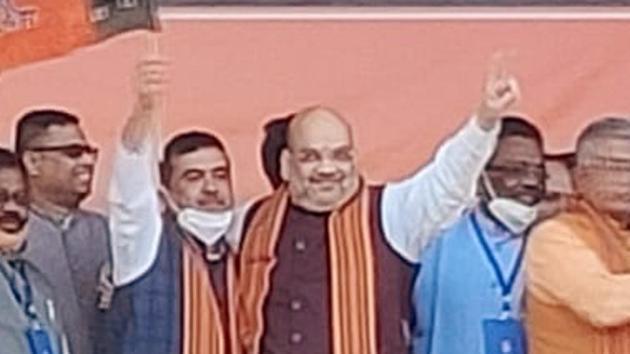 Updated on Dec 19, 2020 04:24 PM IST
Hindustan Times, New Delhi |
hindustantimes.com | Edited by Shankhyaneel Sarkar
Union home minister Amit Shah on Saturday challenged Bengal chief minister Mamata Banerjee at a rally in Midnapore and said that she will find herself facing the BJP all by herself by the time West Bengal goes to polls next year.
Shah said, "Mamata Banerjee keeps on saying that BJP forces other politicians to switch sides and join BJP. I want to ask the chief minister if she remembers she was also a member of the Congress party before she formed Trinamool Congress. Today several leaders from Congress, CPI(M) and Trinamool Congress have joined BJP because they believe in the developmental work of the BJP and the leadership of prime minister Narendra Modi."
He further added, "This is just the beginning, by the time the state goes to polls, you'll be facing the Bharatiya Janata Party alone."
Shah also took a jibe at Trinamool Congress leader and MP Abhishek Banerjee saying that the chief minister is always looking forward to install her nephew as the next chief minister of West Bengal.
He said, "You took the slogan of Maa Mati Manush and used it to extort the people of Bengal. You paved the path for appeasement politics and nepotism in Bengal. You chose to ignore the future of more than 10 crore Bengali people and then ignored the cries of Bengal's unemployed youth. You chose to concentrate on how to install your nephew as the next chief minister of this state."
He also alleged that Bengal's farmers are not able to avail the benefits of Centre's schemes because the state government decided to not implement those schemes. He said, "If the farmers of Bengal do not vote out the Trinamool Congress from power, they will not be able to avail the benefits of Centre's schemes. Farmers here have said that they have not received the Rs 6000 that is guaranteed under the agricultural schemes designed for farmers by the Modi government."
Shah also targeted other TMC leaders and said, "Several TMC leaders said that in the 2019 Lok Sabha elections, BJP will not be able to win a single seat from Bengal but we won in 18 seats across Bengal. When the results of the 2021 legislative assembly elections are out, chief minister Mamata Banerjee can see for herself that BJP will form the government by winning more than 200 seats."
"You promised development in Bengal. There has been no development in the state and the amount of money the prime minister sent for developmental schemes has been used to fill the pockets of anti-social elements," Shah further added.
Shah is on a two-day visit to West Bengal to take stock of BJP's preparations ahead of 2021 Bengal legislative assembly elections.
Suvendu Adhikari, Trinamool Congress rebel leader, also joined the Bharatiya Janata Party in the presence of the union home minister Amit Shah on Saturday at the rally in Midnapore.
Close Story