IG inspects dist police office: Suspends 5, deducts salary of 8, questions 198
Published on Mar 29, 2017 01:00 PM IST
Over 77% staff was present when IG reached, at least 15 people were waiting to meet SSP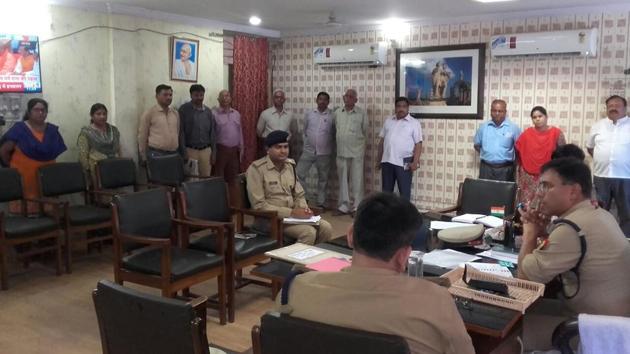 Lucknow, Hindustan Times |
, Lucknow
Rohit K Singh
A sanitary worker quietly sweeping the floor, most office rooms empty with the majority of staff still to arrive, and others, who were there, loitering outside - this was the scene that greeted inspector general (IG) of police, Lucknow Zone, A Satish Ganesh, when he arrived at the district police office, Daliganj, at 10.10 am on Tuesday.
The IG was making a surprise inspection of the office to ensure compliance with chief minister Yogi Adityanath's order that all state government servants had to reach their workplace on time.
Annoyed with what he saw, Ganesh suspended five staff members including a woman clerk and four constables for not wearing proper uniforms, and issued notices to eight employees who arrived late by more than hour that they would be losing a day's salary. In addition, he demanded explanation from 198 workers for reporting to duty after the inspection had started.
"The CM's directives, which have been reiterated by me and other senior officers, are clear - be in office on time, wear proper uniform, don't chew tobacco and maintain cleanliness. It was really annoying for me that these had not percolated down to the junior rung officers and employees. Over 77% staff was not in office when I reached," said Ganesh.
He added that he had also ordered that the 58 personnel who had arrived at work on time be rewarded for their punctuality. The IG ordered a special cash reward of Rs 500 for the sanitation worker Chhote Lal who was found performing his duty with dedication.
Ganesh said that initially he had questioned Lal for cleaning the building after the start of office hours (10am). "Chhote Lal's answer was realistic and it came instantly - without him recognising me as the IG. He said how could he clean the building earlier when the office rooms opened only at 10 am everyday. He stays on the office premises and is available at all times. It was due to the delay caused by office staff that the building could not be cleaned before work hours," he said.
The IG was also unhappy with the record room, which was in a state of mess. "Office files and important documents were lying all over the floor." He issued a warning to the record room in-charge, asking him to update all records within a week and maintain them or face the brunt.
"Not only the junior level employees but even the senior officers were not available on time. At least 15 people were waiting to meet SSP Lucknow Manzil Saini or her representative officer to listen to their woes. ASP (rural) Pratap Gopendra was also not there on time," said the IG, adding, "I had asked the SSP to ensure that some senior officer should be available in office on time to listen to people's woes."
Ganesh said that he had also asked the SSP to depute a gazetted rank officer to ensure proper attendance of the office staff from 10 am to 5pm every day.
In addition, Saini was asked to fix rotational duties of staff to ensure that office cleaning was done at 8am.
During his two-hour inspection, the IG also ordered replacing defunct water coolers and ensuring proper cleanliness of toilets.
Traffic S-I suspended
On his way back to his office, IG A Satish Ganesh suspended a traffic sub-inspector (TSI) Ram Prakash for extorting money from a motorcyclist, at 1090 crossing, in the name of vehicle checking. He also recommended the removal of two home guards who were found involved in a similar act at the same place.
Personalise your news feed. Follow trending topics