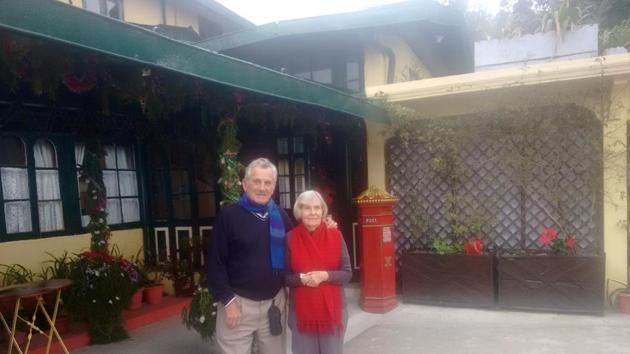 In Christmas you can't miss this Aussie couple in Darjeeling
This is the 25th Christmas they are spending in Darjeeling.
Hindustan Times | By Amitava Banerjee
, Darjeeling
PUBLISHED ON DEC 24, 2016 09:05 AM IST
Much like migratory birds from faraway places such as Siberia, who cover distances of several thousand kilometers to keep their date with the wetlands of south Bengal every winter, Australian couple David and Pat Gates travel more than 7,500 km every year to celebrate Christmas in the Queen of the Hills, Darjeeling.
This is the silver jubilee year of their love affair with Darjeeling during the Christmas and New Year festivities.
The rendezvous the couple, now in their seventies, is the heritage structure better known as Hotel Windamere — a place where time seems to have stopped during the last years of colonial rule.
"Christmas is very different here than in other parts of the world. The hangover of the Raj, complete with the traditional Christmas spread, is what draws us to this place. Windamere, actually, is like an old country house," David told HT.
"For the past few years, we have been staying in Darjeeling for a longer period. We arrive before Christmas-eve and leave only in the first week of January," said Pat.
Originally from Kiama, 130 km from Sydney, the Gates first visited Darjeeling in 1991. "We had read about Darjeeling and Calcutta while in school. So we decided to explore the places. Thankfully, it was Christmas that year. And we fell in love with the way Windamere celebrated — the carol, the entertainment, the dinner... Since then, we have not celebrated Christmas anywhere else. It is homecoming for us," said Pat.
She also appreciated the fact that Darjeeling has done away with the use of plastic carry bags.
"Over the years, we have befriended so many of this town's folks. We visit them every year. Many of them have passed away while many others have moved on," David said with a touch of nostalgia palpable in his voice.
There are many tourists who keep coming back to Windamere but the Gates are special. Shubhana Rai, sales manager at Windamere, said, "They have become a part of the Windamere family. We look forward to their visit every year. And yes, we try to keep our Christmas celebrations as authentic as it was way back in 1939."
The Christmas menu of 1960, proudly displayed, reads, "Hors D'oeuveres Varies; Cream of Tomato Soup; Lobster Mayonnaise and Russian Salad; Roast Turkey and Ham Croquette Potatoes, cauliflower and garden peas; Christmas Plum Pudding and Brandy Sauce; Pickled Sardine on Toast; Dessert and Coffee." The menu has remained the same with minor variations," said Rai.
"We will keep coming back till our health and wealth permit," quipped David.
Close