In December-January politics in Bengal will revolve around BJP's rath yatra
BJP's opponents have lined up programmes to counter what has been dubbed as the most spectacular political programme of the saffron camp in Bengal.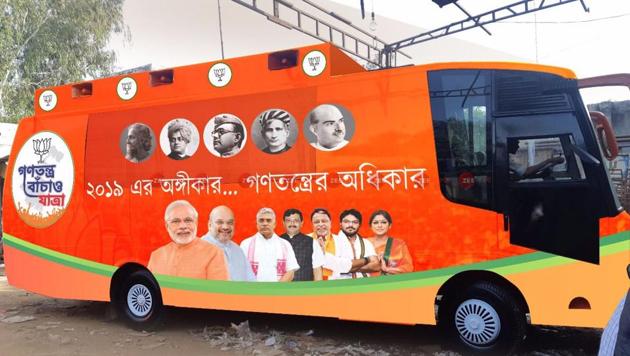 Published on Dec 04, 2018 04:13 PM IST
In December and January, politics in Bengal is all set to revolve around Bharatiya Janata Party's (BJP) rath yatra, styled as Ganatantra Bachao Yatra (Rally to Save Democracy), as all its opponents have lined up programmes to counter what has been dubbed as the most spectacular political programme of the saffron camp in Bengal.
In December, three air-conditioned buses decorated with political messages and fitted with hydraulic lifts will start from three corners of the state and travel through all of 294 Assembly segments of the state's 42 Lok Sabha seats.
During the course of about 40-day campaign, top leaders of the party, including Prime Minister Narendra Modi, party president Amit Shah, union ministers Rajnath Singh, Nitin Gadkari and Smriti Irani and chief ministers Yogi Adityanath and Sarbananda Sonwal will address 42 rallies.
The opponents have also readied their ammunition.
A group of Dalit, tribal and Muslim organisations under the umbrella banner of Sangbidhan Bachao Samiti (Platform to Save the Constitution), has started a rally that will cover all districts of south Bengal by December 6, when a public meeting will be held in Kolkata on the occasion of the 26th anniversary of the demolition of the Babri mosque.
"Our Samhati Jatra started from South 24-Parganas district on November 26 and reached Nadia, after covering North 24 Parganas, on November 30. After covering Birbhum, Burdwan, Purulia, Bankura, Jhargram, West Midnapore, East Midnapore, Howrah and Hooghly, the tableau will reach Kolkata on the night of January 5. The central theme of our rally is to make people aware of BJP's divisive politics ahead of their rath yatra," said Saradindu Uddipan, state convenor of Sangbidhan Bachao Samiti.
The Samiti comprises Bharat Jakat Majhi Mandwa, Majhi Pargana Mahal, Jai Bhim Network (tribal bodies), West Bengal Minority Youth Federation, Jamaat e Islami Hind, a faction of Adivasi Bikash Parishad and some other organisations. These socio-cultural and religious organisations have largely remained politically neutral and work as pressure groups.
Two other rallies are being undertaken by two groups composed of Left-leaning activists. One, taken out by Young Bengal, started from Diamond Harbour in South 24-Parganas on November 25 and ended at Dumdum in North 24-Parganas on December 1, after passing through Kolkata. The other, a bicycle rally titled 'Tomar Danga Tomar Ram, Amar Bukey Kshudiram' (You have riots and Ram, I have Kshudiram), started on December 3 (revolutionary Kshudiram Bose's birthday) and will culminate in Kolkata on December 6 after passing through the industrial belts in North 24 -Parganas, Hooghly and Howrah districts.
Communist Party of India (Marxist) and Congress have both dared the Trinamool Congress government to show its commitment for secularism by stopping BJP's yatra.
"If she has Lalu Prasad Yadav's courage, she should stop BJP's chariot of hatred. We can't see any intention yet," said CPI(M) state secretary Surya Kanta Mishra, referring to the former Bihar chief minister's instance of stopping Lal Krishna Advani-led rath yatra in 1990.
The CPI(M) has lined up a series of events during December and January and counter BJP's propaganda. Its leaders addressed public meetings in Cooch Behar on December 1 and 2 , five days before BJP's first bus is expected to start from the north Bengal town. CPI(M) also held a rally at Sagar in South 24-Parganas district on December 4, five days before BJP's second bus is scheduled to start from there. Another rally will be held at Dubrajpur in Birbhum district on December 10, four days before Amit Shah will flag off the third bus from the temple town of Tarapith.
Ruling Trinamool Congress, on the other hand, has decided to organise a rally on the same route through which BJP's raths will pass in each district. She has dubbed these rallies as 'purification drive'.
"These are no chariots. These are travelling five-star hotels. We will purify every path BJP's raths will pollute," Banerjee announced last week.
The Congress, while organising street-corner meetings in different districts, will hold a public gathering in Kolkata on December 12, state Congress chief Somen Mitra said.
BJP's Bengal leadership said they are happy to see all activities revolving around their programme. "It's good to see we are setting the tone and content of the discourse," remarked BJP state president Dilip Ghosh.
Close Story