Islampur firing Bengal's biggest issue, say RSS-BJP; line up prolonged agitation plans
Sep 28, 2018 06:42 PM IST
Two former students were killed in alleged police firing at the school at Islampur in North Dinajpur district during a protest against delayed recruitment of teachers.
The saffron camp in Bengal has lined up a series of activities — rallies, demonstrations and publications — over the coming few months across the state to mount pressure on the Trinamool Congress government over the death of two Akhil Bharatiya Vidyarthi Parishad (ABVP) organisers in alleged police firing during an agitation at a school.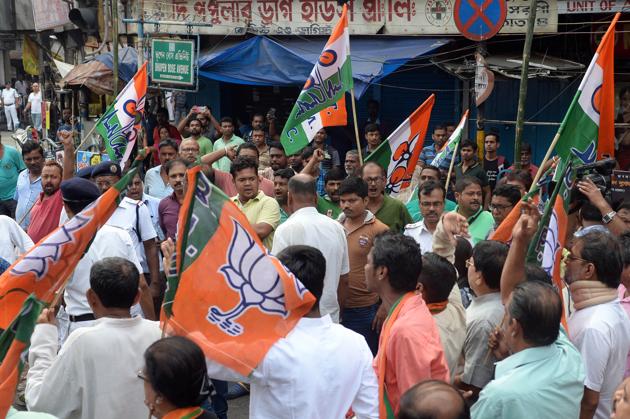 "We'll not let the issue die down. One event will be followed up by another. National leaders will keep visiting Bengal to attend these rallies and demonstrations," Bharatiya Janata Party (BJP) state president Dilip Ghosh said.
RSS leaders are describing it as the "biggest issue in Bengal now".
"Students wanted teachers for Bengali but got one for Urdu. The killing of two Dalit students (Rajesh Sarkar is a scheduled caste and Tapas Burman is a Rajbangshi) failed to earn even the chief minister's sympathy. This one incident has exposed the anti-Bengali, anti-Hindu and anti-Dalit nature of the Trinamool Congress (TMC) government," said Jisnu Basu, general secretary of Rashtriya Swayamsevak Sangh (RSS)'s south Bengal unit.
RSS North Bengal leaders have planned a campaign to highlight the difference in police attitude between the September 20 Islampur incident and that in the neighbouring district of Malda on January 3, 2016 when a mob set fire to the Kaliachak police station.
"We will publish booklets and pamphlets, use the social media, hold street-corner meetings and conduct door-to-door campaign to tell the people how the police did not open fire when a violent Muslim mob attacked the police station at Kaliachak. But they did not hesitate to pull the trigger more than once on unarmed Hindu students demanding teachers in their school," said RSS north Bengal unit spokesperson Tarun Pandit.
Following the firing at Islampur in North Dinajpur district, where Muslim population is about 72%, on September 20, BJP and RSS' student wing ABVP have already called a bandh at local and state levels and taken out many rallies in various parts of the state, including the state capital.
BJP Mahila Morcha have staged a sit-in demonstration and has planned processions. ABVP and Vishwa Hindu Parishad (VHP) have launched campaigns vowing to save Bengal 'from turning into Urdustan'.
The firing at Darivit High School in Islampur block of North Dinajpur district claimed the lives of Sarkar, 19, and Burman, 21, both former students of the school who had joined the current students to oppose recruitment of teachers for Urdu and Sanskrit because the students were in greater need of teachers for history, mathematics and Bengali.
Chief minister Mamata Banerjee, travelling Europe since September 16, denied that the police opened fire, while the families of the victims have sought a Central Bureau of Investigation probe, a demand that the saffron camp has supported.
Communist Party of India (Marxist) politburo member and Raiganj MP Mohammad Salim, while slamming the Mamata Banerjee government for the entire episode, accused the saffron camp of misrepresenting facts.
"Students were opposing appointments of teachers in Urdu and Sanskrit but RSS and BJP are mentioning only Urdu to serve their sinister purpose of disrupting communal harmony. They are trying to engineer riots," said Salim, whose constituency includes Islampur.
"The Islampur incident and the state government's poor handling of the situation has given (BJP) ample oxygen to recover from the damages caused by the exclusion of four million Bengalis from the NRC in Assam," said political analyst Amal Mukhopadhyay, former principal of Presidency College.
According to psephologist Biswanath Chakraborty, a professor of political science at Rabindra Bharati University, "BJP might have got the wind in its sails, but it will be a challenge for the saffron camp to hold on to the gains. They could have tried to highlight it as a straightforward gross administrative failure."