KMC cleans streets near Kalighat temple, thwarts BJP's plans
Published on Sep 18, 2017 10:35 AM IST
Trinamool Congress leaders claimed the streets are regularly cleaned and there was no special plan to foil BJP's plans.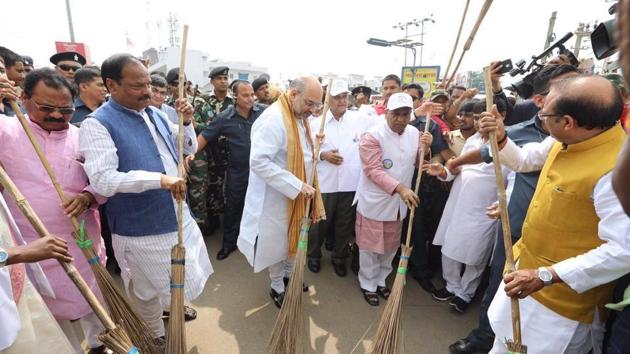 Kolkata Municipal Corporation (KMC) foiled BJP's plans, when it cleaned the streets near Kalighat temple on Saturday night to thwart the programme of BJP leaders to sweep the roads on Sunday morning to celebrate the birthday of Prime Minister Narendra Modi.
BJP decided to observe September 17, the birthday of Modi, as 'Sewa Divas' (day of service). Party leaders undertook cleanliness drives at different places in the country.
Read: TMC govt responsible for unrest in Darjeeling: BJP leader Kailash Vijayvargiya
On Sunday morning a few minutes before 8 am, when party leaders including national general secretary Kailash Vijayvargiya reached the spot armed with brooms and bleaching powder, they found the streets spick and span.
Taken aback and perhaps a tad embarrassed, the leaders sprinkled bleaching powder on the roads. "It feels good to see that the civic authorities cleaned the streets at least for a day," Vijayvargiya told the media.
"KMC keeps the area spick and span every day. BJP had no idea of the ground reality. They came here on Sunday for cheap publicity, and scored a self goal," said local MLA and state power minister Sovandeb Chatterjee.
Read: Kolkata top cop files defamation case against BJP's Kailash Vijayvargiya
The streets around Kalighat temple, where thousands of devotees from around the country visit every day, are usually littered with garbage. BJP leaders decided to clean these streets on Sunday morning to mark the 67th birthday of the Prime Minister.
BJP leaders claimed the information that senior party leaders will be converging on the area was available with Kalighat police station that is close to the temple. They alleged, KMC bosses got the information from the police officers and swept the streets on Saturday evening to foil the BJP programme.
Incidentally, the residence of chief minister Mamata Banerjee is just about a km from the temple.
Kalighat temple is located in ward 85 of KMC, where Manjusree Mazumdar of Trinamool Congress has been the councillor since 2005. She told the media that the temple and the streets in the neighbourhood are regularly cleaned.
Chief minister Mamata Banerjee has claimed that her government's cleanliness drive, titled 'Nirmal Bangla' (Clean Bengal) was launched before Swachh Bharat campaign that was flagged off on October 2, 2014 at Rajghat.