Violence mars Bengal repoll, officials threaten to boycott counting duties
In many booths, armed policemen were posted to ensure fair polling. This was in sharp contrast to the election day when only two policemen – one of them armed and the other with a baton – were deployed for each booth.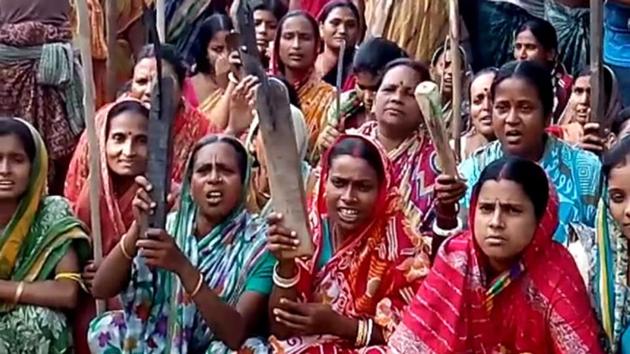 Updated on May 16, 2018 10:43 PM IST
Violence rocked some areas of Bengal during repoll in 573 booths on Wednesday despite heavy police arrangement while polling officials threatened to boycott their duties on counting day on Thursday unless adequate security was provided a presiding officer who went missing on election day was found dead.
In many booths, armed policemen were posted to ensure fair polling. This was in sharp contrast to the election day when only two policemen – one of them armed and the other with a baton – were deployed for each booth.
Repoll took place in 19 districts out of the 20 where elections were held on May 14.
Police seized firearms and pellets in Basanti of South 24 Parganas. Police also seized an improvised jacket made of tin presumably to offer protection from pellets.
In Bankra primary school (booth 76) in Ratua I block of Malda district, goons stormed the centre at 8 am and took the ballot box away.
At Farakka in Murshidabad district, two persons were injured when bombs were hurled at voters at a booth in Maheshpur gram panchayat area.
The BJP alleged that their polling agents could not enter any of the 63 polling booths in the district where re-election was held.
"Bengal has landed in an incredible situation. We have witnessed electoral violence in Bengal, but the degree and extent have multiplied manifold. I am in politics for more than four decades. I can tell you with authority that such a situation had never befallen the state," said Bengal Congress president Adhir Chowdhury, Lok Sabha MP from Berhampore since 1999.
At Raiganj in Uttar Dinajpur district, hundreds of poll officials and teachers blocked a road demanding an impartial probe into the death of Rajkumar Roy, a presiding officer who went missing on May 14.
The agitators blocked a busy road at Raiganj town and another road at Islampur demanding justice for the family of Roy. "We suspect Roy was kidnapped and was forced to commit suicide, or was murdered," said Bipul Maitra, a school teacher and a polling official who was among the agitators.
The officials also said that they would not join their vote counting duty on Thursday unless adequate security arrangements are made under central security forces.
T N Sherpa the sub divisional officer of Raiganj was heckled by the agitating polling officials when he went to meet them.
However, district magistrate Ayesha Rani A said, "Roy had left the polling booth at Itahar much before the polling ended on Monday. He did not report at the block development officer's election counter following which the BDO lodged a police complaint. On Tuesday General Railway Police (GRP) informed us that Roy was hit by Radhikapur Express and died."
His body was tracked with the help of mobile phone signals.
The district magistrate said they have adequate manpower to manage counting if the agitators did not perform their duty on Thursday.
"Roy went missing on polling day noon. The discovery of his mutilated body angered his fellow polling officers deputed at Raiginj," said Bijoy Shankar Sinha, general secretary of West Bengal State Coordination Committee, a Left-affiliated association of state government employees.
In North Dinajpur district's Goalpokhor area, one Mohammed Tashiruddin was killed in a clash on Wednesday. Four others were injured in the incident. However the district magistrate said the clash was related to a land dispute and not to the elections.
Women in the Kolaghat area of East Midnapore district sent a strong message to the police and administration when they guarded two polling booths that were taken over by goons on Monday, prompting villagers to throw the ballot box in a pond.
On Tuesday night the women assembled outside Bardankar Primary School in Dakshin Sagarbar gram panchayat area with kitchen knives and cleavers and stayed there even after policemen reached the booths on Wednesday.
"On Monday, Trinamool Congress supporters captured the booth. We could not cast our ballot," said Malati Maity who guarded the booth. "Had anyone come today to loot our votes we would have killed him," said Sabina Bibi, a voter.
Topics
Close Story