5 daily habits that are increasing your risk of esophageal cancer
Jan 31, 2023 01:25 PM IST
From drinking very hot beverages to not exercising enough, here are daily habits that are increasing your risk of getting esophageal cancer.
Cancer is a disease that is among the most dreaded one of all. There are more than 200 types of cancer depending on the body part they affect. Without treatment, cancer can spread to other body parts and eventually lead to death. However, with advancements in technology, many cancers if detected at early stages is treatable and the life expectancy of people with cancer have increased. Ahead of World Cancer Day (February 4), let's talk about Esophageal cancer, a cancer that starts in the inner lining of esophagus also known as mucosa. Esophagus is basically a long, hollow tube that runs from your throat to stomach and helps in moving the food you swallow from the back of your throat to your stomach in order to be digested. (Also read: Warning signs your body pain is associated with cancer)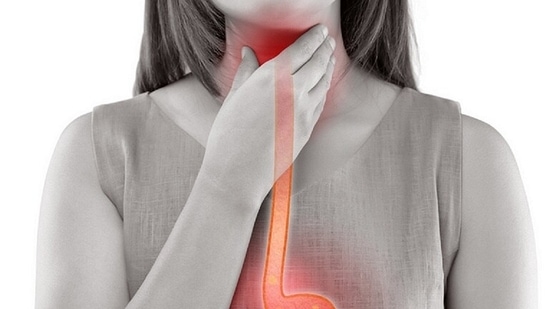 Types of Esophageal Cancer
There are two types of esophageal cancer - Adenocarcinoma (cancer starts at the bottom of the esophagus) and Squamous Cell Carcinoma (cancer arises from upper esophagus) This type of cancer is more common in men as compared to women. Lifestyle factors play a significant role in esophageal cancer and habits like smoking, alcohol, chronic acid reflux, Gastroesophageal reflux disease (GERD) can increase esophageal cancer risk.
"Cancer of the esophagus or esophageal cancer results from the growth of tumour cells in the esophagus or in the lining of the esophagus change. The esophagus is a hollow tube that functions as a carrier of liquids, saliva and chewed up food from the mouth to your stomach. Esophageal cancer ranks as the eighth most common cancers worldwide, however, in India it stands as the fourth common cause of cancer-related deaths. The incidence of the cancer of the esophagus is affected by certain lifestyle habits, diet, low income, environment among others," says Dr Amit Miglani, Director & HOD – Gastroenterology, Asian Hospital Faridabad.
Lifestyle habits that increase risk of Esophageal Cancer
Dr Miglani talks in detail about the lifestyle habits that could raise your risk of the disease.
1. Diet
Certain substances in your diet may put you at a higher risk of esophageal cancer. For example, a diet high in processed meat may increase your chances of developing esophageal cancer, though more research is needed in this area. This may explain the prevalence of this cancer in certain parts of the world.
On the other hand, a diet rich in fresh fruits and veggies probably brings down your risk of the disease. while the exact reasons are not clear, but fruits and vegetables are high in vitamins and minerals that may help prevent cancer of the esophagus.
2. Drinking very hot beverages
If you are fond of having your cup of tea or coffee very hot, then there's a reason for you to worry. A recent study has found a link between drinking of hot beverages like hot water, tea and coffee and the risk of esophageal cancer.
Mostly seen as healthy beverages when they are had in limited quantities, tea and coffee could raise disease risk with their caffeine and antioxidant content. However, having the brew too hot can damage the esophagus and triple cancer risk. To reduce your risk, allow the drink to cool before you take the first sip. It is shown that people who preferred warm brews had a 2.7 times higher risk and those preferring very hot brews are 4.1 times more prone to cancer.
3. Tobacco and alcohol
Use of tobacco and alcohol together are a deadly mix for most cancers including the esophagus. Tobacco products including cigarettes, pipes and chewing tobacco is an important risk factor for esophageal cancer. The more it is used and for longer duration, the higher the risk. Likewise, drinking alcohol also puts you at a higher risk of the disease. Similar to tobacco use, the more alcohol someone drinks, the higher their chance of getting esophageal cancer.
4. Obesity
People who are overweight or obese are at a greater risk of getting esophageal cancer. This in part is due to the fact that obese people are likely to have gastroesophageal reflux. Normally, the stomach makes acid and enzymes to help digest food, however, in some, acid can escape from the stomach up into the lower part of the esophagus known as gastroesophageal reflux.
People with gastroesophageal reflux disease (GERD) are at a slightly higher risk of getting cancer of the esophagus. The risk is more in those with frequent symptoms of the condition. Further, GERD is very common, and most of them with the condition do not go on to develop esophageal cancer.
5. Not exercising enough
Physical activity plays a far more important role to keep us healthy and fit. Engaging in a regular dose of physical activity helps to keep diseases at bay and may also lower your risk of developing cancer of the esophagus as well. So, it's time to tie your shoe laces and get ready for a workout sooner than later.
Road ahead
"To help lower your risk of some types of cancers, it is essential to adopt a combination of lifestyle changes such as quitting smoking, limiting alcohol, maintaining a healthy weight and not to forget, allowing beverages to cool before you drink. In addition, a healthy and balanced diet, regular exercise and relaxation techniques like yoga and meditation are known to lower your risk of disease," concludes Dr Miglani.