Warning signs your body pain is associated with cancer
Nov 27, 2022 02:06 PM IST
Certain types of body pain can be associated with cancer. Expert on warning signs that your body pain indicates cancerous growth in the body.
We experience body pain from time to time and in most cases, it is due to exertion, stress, minor injuries or due to too much sitting. These pains may last for a shorter or a bit longer duration and are usually cured with the help of medication or painkillers prescribed by doctors. But what happens when your body pain persists over a longer period of time and accompanied by symptoms like weight loss, cough, fatigue etc. One shouldn't ignore body pain if it recurs and becomes unbearable as it could be a sign of cancer. Cancer is a group of diseases that occurs when abnormal cells grow uncontrollably or spread to other parts of the body. It a leading cause of death worldwide, and accounted for nearly 10 million deaths in 2020, or nearly one in six deaths, according to WHO. (Also read: Bengali actress Aindrila Sharma dies at 24; can cancer cause cardiac arrest?)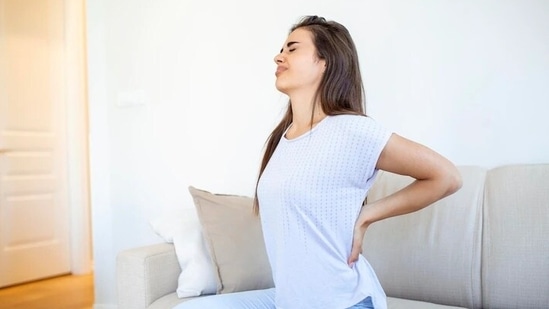 Body pain is considered to be the most common symptom in people associated from all age groups right from young age to elderly. It is usually a result of exertion, sometimes trauma or other nonspecific causes.
BODY PAINS THAT INDICATE CANCER
"Certain types of body pain can be associated with cancer and one should be very aware that this type of a body pain may be more serious. In general, body pain associated with cancer will have 2 or 3 characteristic features," says Dr Prasad Kasbekar, Consultant Surgical Oncologist, Masina Hospital, Mumbai.
Dr Kasbekar lists the types of body pains that could indicate cancerous growth in the body.
PAIN THAT RETURNS WHEN YOU STOP MEDICATION
Such pain is usually long standing and relieved only with medications or specific treatment towards the pain. The pain may recur when you stop the medication.
PAIN IS ACCOMPANIED WITH WORRYING SYMPTOMS
The pain may be associated with other specific symptoms, such as loss of weight, loss of appetite, cough, haemoptysis, blood in the urine, and many other symptoms.
BODY PAIN THAT'S LOCATED IN SPECIFIC PARTS WITH NO TRAUMA OR ILLNESS
Third and very important key feature is that such types of body aches associated with cancer are usually specially located in regions such as the back, or the upper abdomen near the liver, or in certain parts of the body like the bone. There are no predisposing factors or history of any trauma or illness. These kind of body aches if persistent should be thoroughly investigated as they may be the harbinger of an underlying cancer
"If you are getting persistent body pain, or specifically in a particular region of your body, then you should have it investigated, rather than just taking analgesics," says Dr Kasbekar.
COMMON CANCER SIGNS YOU SHOULDN'T IGNORE
Dr. Amit Bhargava Senior Consultant - Medical Oncology, Fortis Escorts Hospital, Faridabad says most of the cancers usually have no symptoms during the initial stages and only once they progress patients starts feeling the distress.
BRAIN TUMOUR SIGNS AND SYMPTOMS
"Persistent headaches, giddiness, loss of consciousness and altered sensorium with loss of sensation or power in hands and legs, may be a sign of brain tumours," says Dr Bhargava.
HEAD AND NECK CANCER SIGNS
"Head and neck cancers are the ones which can be picked up at a very early stage as everything can be seen by a backed eye. Any ulcer in the mouth, lump in the neck, hoarseness of voice, oral or nasal bleeds should not be ignored and evaluated to rule out cancer," says the expert.
LUNG CANCER SIGNS
Persistent cough, progressing breathlessness, chest pain or discomfort and blood in cough can be symptoms of lung cancer, says the oncologist.
BREAST CANCER SIGNS
"Any lump in the female or male breast, nipple discharge, dimpling or change in skin texture, lump in armpit can be a sign of breast cancer," says Dr Bhargava.
STOMACH CANCER SIGNS
Difficulty or pain while swallowing, unexplained weight loss, increasing weakness or lethargy or bloating after meal may be signs of food pipe or stomach cancers, according to Dr Bhargava.
LIVER OR GALL BLADDER CANCER SIGNS
"Abdominal pain, loss of appetite, increased acidity, any lump in abdomen or increasing size of liver and spleen can be due to liver, gall bladder and pancreatic cancers," says the oncologist.
COLON CANCER SIGNS
Difficulty in passing stools, blood in stools or mass in the mid or lowed abdomen can be due to colon cancer, says the expert.
PROSTATE AND BLADDER CANCER SIGNS
"Difficulty in passing urine or obstruction can be due to Prostate cancer. Painless passing of blood in urine can be a symptom of urinary bladder cancer," says Dr Bhargava.
BLOOD CANCER SIGNS
"Increasing fatigue, unexplained fever or weight loss with loss in Haemoglobin or rising White cells or platelets can be some abnormalities due to blood cancer," says the expert.