Are your ears popping? Hard truths about corn, with Swetha Sivakumar
Jan 21, 2023 04:17 PM IST
It's the most widely harvested grain in the world, grown on every continent except Antarctica. It's in a lot more than your packaged snacks. Trace a 9,000-year tale, in this week's Sound Bites.
Some 9,000 years ago, people in Mesoamerica (modern-day Central America and southern USA) began to cultivate a grass called teosinte. European settlers would later call it "Indian corn". Corn was just a word for kernel then; Indian, of course, was a reference to the Native Americans, who'd been misnamed in one of history's most grievous geographical errors.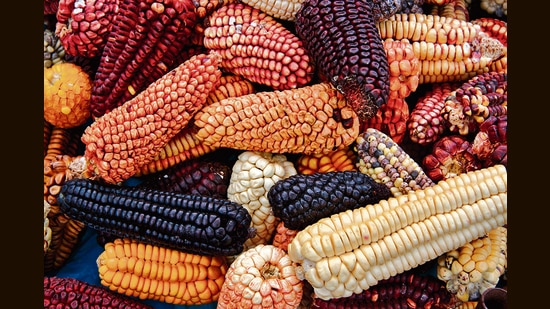 Technically, in English, the crop is maize (botanically, Zea mays). But in America, the prefix "Indian" would soon fall away, and all that was left was "corn".
It's just as well that the crop got a different name. The teosinte that the Native Americans farmed was very different from the grain of today. Each kernel had an incredibly tough casing, making it difficult to access the starch inside. There were only five to 12 kernels per cob, compared to the hundreds today. Plus, the teosinte had to be nixtamalised (treated with an alkali), without which the nutrients niacin and tryptophan remained trapped inside the grain, causing a deadly vitamin deficiency called pellagra in populations whose traditional diet relied heavily on corn.
Despite all these setbacks, this has become one of the most widely produced crops in the world. How did it go from the Americas to everywhere? Well, it's a fast learner, adapting to varying environmental conditions in ways that still ensure that it looks vastly different in different parts of the world, ears sprouting a range of colours, textures and kernel sizes. Corn also has an extremely productive metabolism that only 3% to 5% of flowering plants possess (sorghum and sugarcane are among the others). It can perform photosynthesis with extreme efficiency even in low-water conditions. As a result of its adaptability and hardiness, the crop is now grown on every continent except Antarctica.
A further boost has come from the heavy focus on this crop in the US. For centuries, the US economy has relied heavily on corn. It was a key driver, alongside cotton, in the early years of European settlement; unlike cotton, it remains a key driver today. So, through the decades, scientists worked to find the best sowing arrangements, fertilisers and crop rotations; bred strains with larger ears and greater pest-resistance. As a result, corn fields have some of the highest yields of any food crop today, providing 15 million calories per acre, a rate matched only by potatoes. (Rice and wheat, for instance, produce 11 million and 4 million calories per acre respectively.)
There has, of course, been a flip side to this. Amid the scientific advances of the post-World-War-2 era, harvests became so abundant that, by the 1970s, high-fructose corn syrup had become the backbone of the packaged-foods industry, contributing to today's twin epidemics of obesity and urban malnutrition.
Today, there is so much of this grain being produced in the world (1.2 billion metric tonnes worldwide in 2021, according to Statista, against about 778 million metric tonnes of wheat and 509 million metric tonnes of rice), that it's hiding quietly in a number of things you'd never dream it was in. Nearly 4,000 products in various industries — food, pharmaceuticals, soap, textile, etc — use byproducts of corn.
This diversity of byproducts is only possible by fractionating the crop to its elemental levels. All corn that is not meant for direct consumption is separated into starch, germ, fibre and protein. The protein goes into animal feed. The germ goes towards making corn oil. Apart from the myriad uses of corn oil in margarine, potato chips, salad dressings, sauces, etc, it is also used in the pharmaceutical industry as a carrier oil for fat-soluble vitamins such as D3.
The polymers in corn fibres are used in a range of products, from low-calorie sweeteners to eco-friendly fabrics used in textiles, diapers and wipes.
About 70% of the remaining corn is starch. This is used as a binder in capsules and tablets, to enable better absorption. It is also used in the making of soaps and baby care products, where it functions as a fragrance fixer and gentle exfoliant.
Cornstarch molecules can be further chopped up into modified starch. This helps ready-food powders such as instant pudding dissolve in cold water, and frozen packaged meals retain their consistency when rapidly heated.
The most famous of these modified starches is maltodextrin, which is used as a filler in foods ranging from artificial sweeteners to protein powders. It's white and flavourless, dissolves instantly and is rapidly digested by the body. When all one needs is a few grains of a substance such as a sweetener or supplement, how does one fill a teaspoon, make it usable, sell by the sachet? Add maltodextrin.
With tonnes of corn left over, some is broken down further, to convert all the starches into simple sugars. These sugars are fed to microbes in bio-fermentation units, to generate substances such as MSG and xanthan gum (a food thickener). And finally, when fed to an enzyme called glucose isomerase, to generate the sweetener called high-fructose corn syrup.
Even after all this, there are warehouses full of corn. But the ripples they send around the world are a story for another day.
(To reach Swetha Sivakumar with questions or feedback, email upgrademyfood@gmail.com)
Enjoy unlimited digital access with HT Premium
Subscribe Now to continue reading