Rinse, repeat: See how shampoo is helping decode activity on the Sun
Jan 27, 2023 01:21 PM IST
A recent study examined how shampoo moves on a vibrating speaker, and came away with a better understanding of how plasma jets form and drive space weather and solar winds.
Could the way shampoo moves on speakers explain some of the vagaries of weather in space?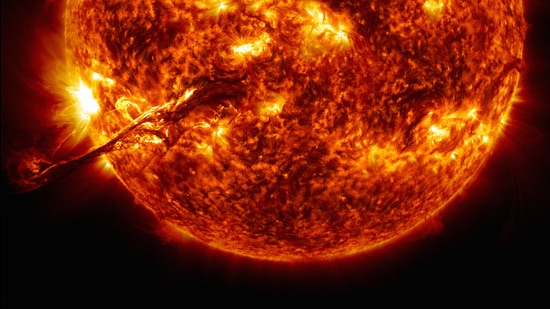 Place a polymer such as paint or shampoo on a vibrating speaker and it doesn't shiver and form drops as water does. It shoots up in a thick, unbroken jet. This is because polymers have a molecular structure that resembles a huge chain; these bonds do not break easily and instead tend to twist and turn in response to an external force.
A similar phenomenon is occurring on the Sun, say researchers from the UK and India (specifically Aberystwyth University, Queen's University Belfast, and University of Sheffield; the Indian Institute of Astrophysics, Indian Institute of Science, and Azim Premji University), in a study published in the journal Nature.
In the case of solar spicules — dynamic jets of plasma that shoot out from the surface of the Sun — the unbroken chain is caused not by polymers but by the strong magnetic field of the extremely hot plasma, which can reach temperatures of 1 million degrees Celsius. And the jets are driven not by sound waves but by the magnetic fields swirling about on the surface of the Sun, which create a force similar to that of bubbles atop boiling water.
The force with which this plasma is ejected drives solar winds, which influence space weather and Earth's magnetic field and cause disruptions in communication and navigation and occasionally power outages at ground level.
The study in Nature explains how lab tests used numerical simulations to verify this theory, drawing on available measurements for factors such as the force with which plasma jets are ejected and the force of the magnetic fields on the surface of the Sun.
These new findings challenge the prevailing theory that short spicules and taller, faster spicules have different root causes. That's one more mystery possibly solved. So many remain, when it comes to our slowly cooling star. Scan the QR code alongside to see a brief recap of our decades of trying to decode the Sun.
Enjoy unlimited digital access with HT Premium
Subscribe Now to continue reading