Milind Soman spills the beans on managing to stay so fit at 55
From making us fall head over heels over his chiselled physique in Alisha Chinai's Indi-pop album 'Made in India' to making us drop our jaws in awe over his fitness stunts even at 55, Milind Soman never fails to boost our workout motivation around the week and this is his secret health mantra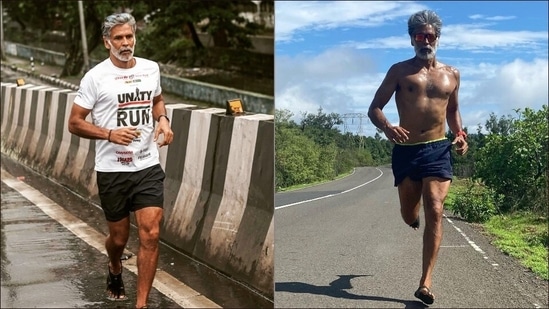 Updated on Aug 18, 2021 07:40 PM IST
He runs barefoot and doesn't believe in wearing extraordinary branded sneakers while heading out for his daily sprint nor does he pump up his workout motivation by plugging in earphones and listening to peppy music like all the millennials out there yet, at 55, Milind Soman can give all the fitness enthusiasts a run for their money. From making us fall head over heels over his chiselled physique in singer Alisha Chinai's Indi-pop album 'Made in India' to making us drop our jaws in awe over his fitness stunts even at 55, Milind never fails to boost our workout motivation around the week so when he spilled the beans on his secret health mantra to stay so fit, we were all ears.
In an interview with India Today.in, Milind opened up about ageing like fine wine. He shared, "I am sure that if anyone starts now, then at 55 they will also manage. This can actually be a great time to adopt certain habits and to prioritise your life, because health and fitness are important. Over a period of time, one can achieve any level of fitness that one wants. I've been doing it for the past 50 years."
+
Milind revealed, "Ever since I was 6-7 years old, I started swimming and for 50 years, I've been fit because I am consistent. Whether I have two minutes, 20 minutes or two hours, I'll do something that is challenging."
+
Inspiring us to get out of bed and hit the gym already, Milind advised, "It's not about how fast you are or how much weight you're losing. The key is to keep moving. Laziness is a part of human nature and it is not wrong. A person should conserve their energy for important things and exercise is one of the important things in life. Most people waste their energy and end up not exercising."
+
The supermodel is often seen inspiring people of all age groups towards a healthier lifestyle by giving regular sneak-peeks of his own fitness routine. Be it running 179 kms from Mumbai and crossing into Gujarat despite incessant rainfall or nailing dead hang on deck railing, performing shirtless pushups, nailing bare torso headstand in Kanchenjunga's backdrop and even underwater Vishnu pose, Milind Soman leaves us swooning as he takes the bar of fitness goals a notch higher every time.
Close Story