Yoga for women's health: Try these exercises for menstrual health, weight loss, mental relaxation and during pregnancy
Updated on Aug 26, 2022 01:07 PM IST
Due to frenzied multi-tasking, women can feel exhausted, frazzled and sapped of their energy hence, they should particularly commit to taking out time from their regular schedules to heal and restore. Here are some Yoga asanas for menstrual health, weight loss, mental relaxation and pregnancy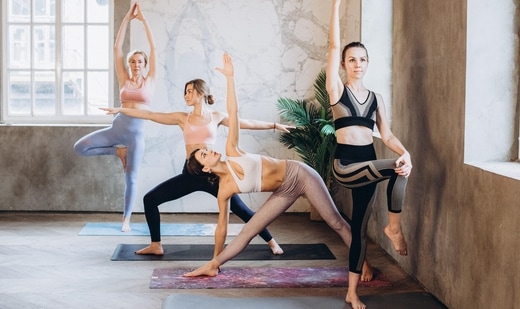 Women, apart from their nurturing quality, are particularly known to be great at multi-tasking and with their myriad roles, women become busy taking care of everyone else but themselves. This instinctive tendency that they possess takes up all their free time leaving little to none for their own self-care and fitness.
With this habit of frenzied multi-tasking, women can feel exhausted, frazzled and sapped of their energy. This means that women should particularly commit to taking out time from their regular schedules to heal and restore.
Yoga for menstrual health
In an interview with HT Lifestyle, Himalayan Siddha Akshar, shared, "For women, one of the most vital reasons for worry is menstrual hygiene and its related health. There are specific yoga poses that can add to flexibility by way of pelvic opening which reduces any congestion as much as possible. With yoga, you can make the time of your monthly cycle cramp-free by counting in some easy yoga practices into your usual routine. Even a brief sequence of simple yoga asanas, with mild stretching, deep breathing will prove to be most valuable. This will also be helpful to balance your emotions that can cause mood swings, dreariness, anxiety or anger."
Yoga during pregnancy
The duration of pregnancy is a very blessed and a significant and chapter in any woman's life but it is also one that can be nerve wracking and can be quite demanding. During this time women experience their body transforming, suffer from hormonal fluctuations, food cravings etc therefore, health should be closely monitored.
However, despite these radical changes, it is a period that can be a happy experience provided there are no difficulties. Himalayan Siddha Akshar said, "Yoga along with peaceful sleep and a lot of nutritious food can be the best recipe for a healthy mother and healthy child. Through a tender and supervised yoga practice, women can keep the body and mind calm, physically powerful and be ready for the delivery process. There are certain asanas considered to be especially helpful during pregnancy."
He advised, "Poses like Baddha konasana, Balasana, Vajrasana can open the hips, strengthen and keep the back supple and strong. Yoga is commonly suggested by medical practitioners and experts as the best kind of exercise for the expecting mom."
Yoga for weight loss
Asserting that Yoga is an effective way to shed the extra kilos, Himalayan Siddha Akshar explained, "This is because along with stretches for flexibility, yoga can also be a great cardiovascular workout. This will increase your heart rate and allow you to burn off those excess calories. The abdominal area contains the most obstinate fat, and this can be targeted through specific yoga postures like Naukasana, Santolansana etc."
Yoga for Mental relaxation
According to Himalayan Siddha Akshar, women can benefit from pranayama exercises like Anulom Vilom, Bhastrika, Brahmari etc. He revealed, "This will give mental well being. Even the simple process of observing the flow of your breath – inhale (Purak), retention (Kumbhak) and exhalation (Rechak) will instantaneously provide a feeling of calmness and relaxation. As a woman, perform meditation and pranayama a minimum of 30-45 minutes at least 3 times a week."
Suggesting to begin with Sukshma Vyayam, he said, "In Yoga, an effective way to begin your practise is by performing Surya Namaskar or Sun Salutation. This is a total body workout that helps to fortify immunity, condition and make the body flexible. Tip: You can start with 4-5 cycles a day and steadily build it up as your stamina increases. Yoga is certain to bring positive changes if you are dedicated to your practice. Yoga provides practitioners with physical, mental, and emotional strength to overcome challenges courageously and easily. Follow a regular routine of Yoga asanas and pranayama over and over again for at least 3 times a week."
Personalise your news feed. Follow trending topics