Warm up your winter night with a dinner of sliced duck in orange sauce
Jan 08, 2023 07:38 PM IST
Tick off nutrition for day with a dinner of sliced duck in orange sauce following this recipe
Poultry like chicken, duck, turkey and eggs are the best source of bioavailable proteins and are termed as complete proteins since all the dietary essential amino acids are abundantly present in them. Complete protein sources like chicken, turkey, duck and egg are high on quantity and quality and 100% digested.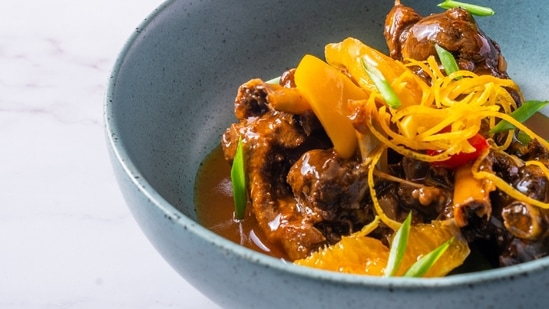 Poultry meat is an important component of a healthy and well-balanced diet due to its nutritional richness with moderate energy content, highly digestible proteins of good nutritional quality, healthy fats, B-group vitamins and minerals. So, tick off nutrition for day with a dinner of sliced duck in orange sauce following this recipe -
Ingredients:
Duck- 250gm
Butter- 100 gm
Ginger- 1 teaspoon
Diced Orange (deseeded)- 250 gm
Salt- to taste
Fresh Orange Juice- 500 ml
Tomato Sauce- 200 ml
Onion- Sliced
Red & Yellow Bell Pepper- ½ of each
Garlic- 1 tablespoon
Red chili paste- 4 teaspoon
Sesame seed- ½ table spoon
Sugar- to taste
Refined Oil
Method:
First, roast the duck and steam it well to soften the meat. Now, in a pre-heated pan, pour in some refined oil till it heats up a little. Add in diced onion, red and yellow capsicum. Once the veggies shrink a little, one by one keep adding ginger and garlic paste, salt and sugar, chilli paste, tomato ketchup, fresh orange juice and sauté them to prepare the orange sauce.
Then add the cooked duck into the pan and once again stir and cook the duck till the sauce penetrates well into the meat. Serve the duck hot and garnish it with sliced red chilies on top.
Portion: 2-3 People
Preparation time: 20 minutes
(Recipe: Head Chef Ram Bahadur Budhathoki)