6 reasons why having fewer friends can actually be good for you
Jan 21, 2023 03:46 PM IST
The fewer friends you have, the more time you have for reflection, self-improvement and self-growth and that can increase the amount of satisfaction you derive out of life. A psychotherapist on benefits of having fewer friends.
Some people are better at maintaining friendships than others and it is possible that with age and time, we may lose friends more rapidly than before and do not feel like making new friends. In case not having enough friends in your life is troubling you in any way, a study offers comfort. According to a 2016 study published in the British Journal of Psychology, smarter people do better with a smaller number of friends. There are numerous other benefits of not having too many friends and they include an opportunity to form deeper bonds with your existing friends or near and dear ones. Having fewer friends also say something about you as a person - you probably establish a better sense of self-worth. The fewer friends you have, the more time you have for reflection, improvement and self-growth and that can increase the amount of satisfaction you derive out of life. You become your own person when you have fewer people to influence your thoughts, perception and actions. This means you are more likely to take independent decisions without fearing what others may think. (Also read: How to recognise a true friend; expert on 10 signs of a healthy friendship)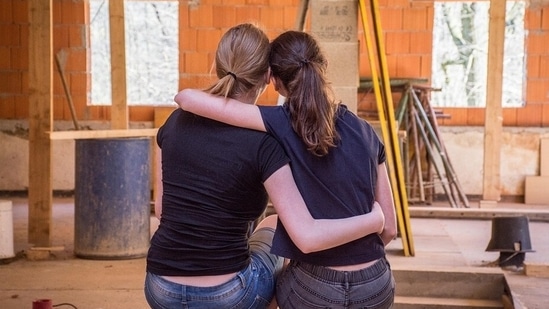 Why people need friends
"Having a solid network of friends is an integral part of personal well-being. Studies have consistently found that positive relationships with individuals can significantly improve emotional and physical health. Friends provide us with companionship and emotional support, as well as help us to solve problems, stay motivated, and remind us to take time out for ourselves. Furthermore, they allow us to develop a sense of belonging and increase our self-esteem," says Dr Chandni Tugnait, M.D. (Alternative Medicines), Psychotherapist, Life Coach, Business Coach, NLP Expert, Healer, Founder, and Director of Gateway of Healing.
Benefits of having fewer friends are no less
"However, having fewer friends can be beneficial, allowing individuals to spend quality time forming meaningful connections. People who have an extensive group of friends may spread themselves too thin and lack depth in any one relationship. On the other hand, having a few devoted companions enables people to focus their attention, energy, and loyalty on creating an actual bond. This allows them to delve deeper into meaningful conversations, build trust, and share experiences that can make lasting friendships," says the psychotherapist.
If you are someone who doesn't believe in having a huge circle of friends, Dr Tugnait lists all the benefits of having fewer friends.
1. Greater depth in relationships
The quality of your relationships is typically enhanced with fewer close friendships. With fewer distractions and more time to devote to each individual, conversations become more profound, meaningful, and lasting.
2. More growth opportunities
\By investing more time in a select group of friends, you can form bonds that provide room for both parties to grow together. Each friendship is an opportunity to develop essential life skills like communication, problem-solving and emotional intelligence.
3. A stronger sense of self-affirmation
Having fewer friends helps establish a sense of self-worth since the attention you receive is intensely focused. With fewer voices competing for a piece of your time and energy, you become more aware of which thoughts and opinions should be taken seriously.
4. More convenient connections
As friendships increase, it can often become challenging to keep track of who said what or when they were available. Having fewer friends allows you to quickly recall important information and easily coordinate plans without feeling overwhelmed by details.
5. Increased opportunity for solitude
When you have a smaller circle of friends, it becomes easier to carve out moments where you can appreciate being alone. The extra time can be used as an opportunity to reflect and recharge.
6. More unique perspectives
With fewer people to call on for advice and support, finding someone with a unique perspective on any given issue can be more accessible. This kind of outside-the-box thinking is often invaluable when making decisions that require innovative solutions.
"Ultimately, the number of friends one should aim for will depend on each individual's needs; some prefer only a handful of confidants, while others find joy in having many acquaintances. From greater depth in relationships to more unique perspectives, having fewer friends is worth considering if cutting down your social circle could lead you towards life-changing opportunities," says Dr Tugnait.