Why you should say no to nudes
Updated on Mar 14, 2022 10:51 PM IST
As sending intimate photos becomes astonishingly easy in the 21st century, the risks remain high as ever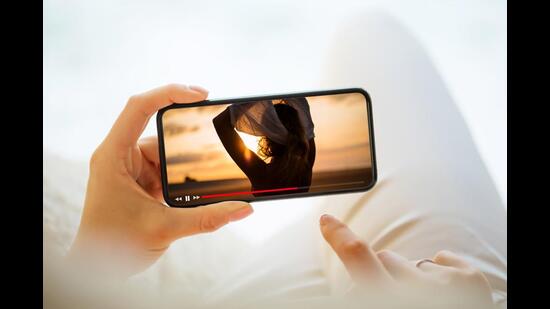 In a spine-chilling incident earlier this month, thousands of obscene, nude photographs of over 200 women were sold on foreign porn websites allegedly by a Noida-based man, who works as a market research analyst. The 33-year-old used to contact these women on Instagram and lure them into sending their nude photos by posing as a woman and blackmail them, as per reports.
This compels one to re-evaluate the practice of sending nudes. "People send nudes for a variety of reasons — some sexual, some personal, some out of addiction and some out of boredom or loneliness. However, one reason that stood out during the pandemic was the need for people to feel connected to others. Many youngsters and even adults took to exchanging nudes to express intimacy," Dr Chandni Tugnait, psychotherapist and life coach.
As more people took to virtual dating amid the pandemic, practices like sexting and sharing intimate moments online became more commonplace. But problems arise when photos or videos are shared without consent. "In these unprecedented times, where people needed more emotional support or feared a break up, found less or no opportunities to establish new connections and just general anxiety and nervousness made people cave in to the unwarranted demands of an individual's love interest," opines psychologist Kanika Khosla.
People often find themselves giving in because of their FOMO (fear of missing out). "A lot of times, people believe that it is normal and a part and parcel of being in a relationship, especially in long distance ones. There's always peer pressure and emotional blackmailing that people find even more difficult to combat," adds Khosla.
The dark side of it
While it is the simple need for human connection that makes one indulge in this practice, it is more often than not risky. The consequences of sending nudes can be traumatising and unhealthy for many relationships. "Always think about the consequences. Even though the person might promise that they'll never share it with anyone, they may be lying," says Khosla.
There are a number of factors to weigh in before hitting the send button on that intimate photo:
The person who receives the nude can use them to threaten the sender and blackmail to give in to other demands.
Furthermore, sending nudes doesn't guarantee long lasting relationships. Don't use this as a way to prove that you trust each other.
Healthy relationships are based on mutual respect and consent, not blackmailing.
If a person breaks up or starts withdrawing from the relationship when one doesn't send a nude, know that the relationship might not be a healthy one.
Remember, nudes can be shared a long time after they're sent, after an argument or a break-up.
"Do you trust the recipient? Have you considered the consequences if betrayed? Is it lack of self worth and self-esteem? Ask these questions to yourself. Remember, if any man cares and respects you, he would never ask you to do this. He knows the risk involved. Girls take charge of your life, you're precious," says Pria Warrick, Clinical psychologist.
"Sending nudes can trigger a series of emotional and mental harassment after a break up or a fight. Revenge porn is not uncommon nowadays," adds Khosla.
How to protect yourself
Even when you share your pictures with somebody, it doesn't give the other person the consent to circulate them. The act is illegal under the Indian Penal Code. "The first step is to contact authorities and report the incident. Next, you should work with an attorney to file a lawsuit against the perpetrator. Finally, you should take measures to protect your privacy and prevent future incidents from happening," asserts Tugnait.
You can file a complaint as soon as possible at the local police station or a cyber police station. Anirudh Tanwar, criminal lawyer practising in Delhi, adds, "Victim should not hesitate in approaching the police as stringent measures are provided in the law for taking the offenders to task. Our law also provides strict action against any erring police officials who refuse to register FIR and take action."
Remember, prevention is better than cure. Seek help from an expert if you are unable to cope with it yourself.
Personalise your news feed. Follow trending topics