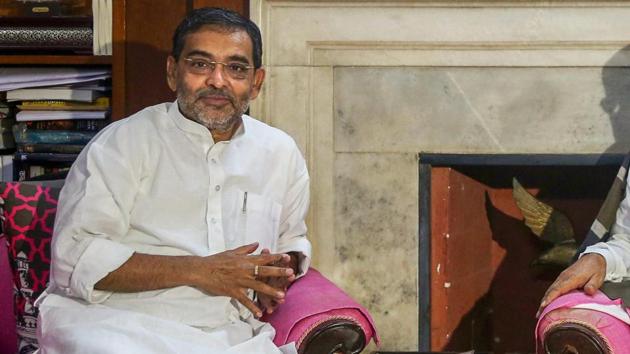 Amid flux in RLSP, Nagmani challenges Kushwaha for a poll battleallenger in Nagmani
In a tweet, Nagmani said that the RLSP was headed for a large-scale exodus and also set the tone for engaging his former party chief on his political turf, saying "if you (Kushwaha) have the courage, stick to your Lok Sabha seat (Karakat). I will inflict a crushing defeat on you."
Hindustan Times, Patna | By Anil Kumar (HT Editorial- Patna)
PUBLISHED ON MAR 12, 2019 04:20 PM IST
After triggering desertions and expulsions in the RLSP following Upendra Kushwaha's decision to join the Grand Alliance, the declaration of poll dates for 2019 Lok Sabha has now prompted its "expelled" national working president Nagmani to come out in the open and challenge Kushwaha on his sitting Karakat seat for an electoral battle.
In a tweet, Nagmani said that the RLSP was headed for a large-scale exodus and also set the tone for engaging his former party chief on his political turf, saying "if you (Kushwaha) have the courage, stick to your Lok Sabha seat (Karakat). I will inflict a crushing defeat on you."
In the last two days, RLSP has been working overtime to weed out disgruntled elements from its rank. "We have expelled three national general secretaries, Rajiv Jaiswal, Kranti Prakash and Pradeep Mishra, and national secretary Kumod Chaudhary for engaging in anti party activities," said party national general secretary-cum-spokesperson Fazal Imam Mallick.
The deft political intent behind Nagmani's tweet, a day ahead of his scheduled press conference in the state capital, could hardly be missed. RJD national vice president and former union minister Raghuvansh Prasad Singh was quick to jump in defence of Kushwaha and take on Nagmani.
"The man (Nagmani), who was vouching for Kushwaha's credentials for becoming the chief minister till yesterday, is now levelling charges of selling tickets against him. This amounts to stooping to a very low-level, that too, for political gains," Singh said.
Apparently Nagmani, son of socialist leader late Jagdeo Prasad, has tried to kill two birds with the same stone. One, re-iterate claim to his father's legacy as the leader of the community (Kushwaha) and, second, position himself as the only candidate for the NDA capable to take on RLSP chief.
On being asked about the challenge thrown up by Nagmani, Mallick said "it is a question that is out of the syllabus for us. But if he considers himself to be a leader of some stature and chooses to contest from Karakat, nothing can be better than this for us." He was implying that it would be a cakewalk for his party chief.
RLSP chief has been known for towing an independent line and has been raising issues related to farmers, access to quality education for poor sections, reservation in judiciary, private sector jobs, including media, while serving as a minister in the union cabinet.
His pitch for honourable number of seats in the NDA, commensurate to expansion in RLSP's base, had failed to cut much ice particularly after chief minister Nitish Kumar-led JD (U)'s entry back into the NDA fold.
Former state president and MP from Jehanabad Arun Kumar was the first to fall out with Kushwaha, along with Chenari MLA Lallan Paswan. Harlakhi MLA Sudhanshu Shekhar also joined Paswan and party MLC Sanjeev Shayam Singh in distancing themselves from Kushwaha's decision to sever ties with the NDA.
On December 29, former minister and national vice president Bhagwan Singh Kushwaha formally joined JD (U) in the hope of a political rehabilitation. In February this year, Nagmani met chief minister Nitish Kumar at a public function held in the honour of his father Late Jagdeo Babu. The latest in the list of RLSP leaders to hobnob with JD (U) is Pradeep Mishra.
Close