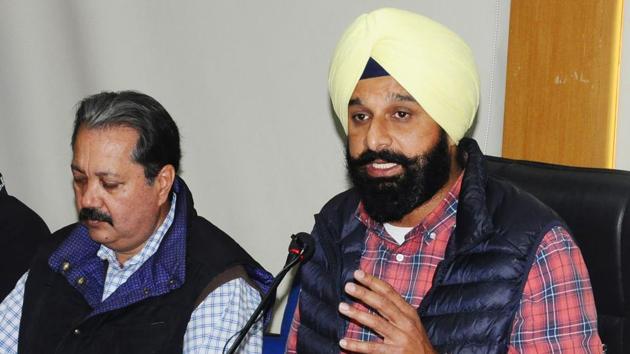 Lok Sabha election: Majithia tears into Capt Amarinder govt, says not even single promise fulfilled
The party also marked the completion of two years of Amarinder as "Vishvasghat Divas".
Hindustan Times, Chandigarh | By HT Correspondent
UPDATED ON MAR 16, 2019 10:22 PM IST
Senior Shiromani Akali Dal (SAD) leader and former revenue minister Bikram Singh Majithia accused the Capt Amarinder Singh government, which completed two years in office on Saturday, of not fulfilling even a single promise made in the Congress manifesto during the 2017 assembly polls in the state.
Terming the manifesto prepared by the incumbent finance minister, Manpreet Singh Badal, a document of deceit, the Akali leader said: "The government has cheated the people of Punjab by reneging on promises made to farmers, unemployed youth, Dalits, industry and employees."
"If there is one thing the Congress government has delivered upon it is the politicisation of the probe into the Kotkapura and Behbal Kalan incidents by first forming the Ranjit Singh Commission and now SIT, which is controlled by the Congress. All serious issues like forming a lokpal, tabling assets of officials and providing legal aid to Scheduled Caste and backward classes have been put on the backburner," alleged Majithia.
The party also marked the completion of two years of Amarinder as "Vishvasghat Divas".
The Congress government had not only failed Punjabis but had caused untold misery and hardship to the people by denying them social welfare benefits like the shagun scheme, old-age pension, scholarships, mid-day meals, textbooks and even school uniforms, the Akali leader said, adding: "As many as 800 schools were closed in two years of the Congress regime. Never before in the history of the state has any government performed so poorly on all fronts. It seems there is no government in Punjab."
He said the government was indulging in a public relations exercise to hide its failure. "The first and foremost failure of the government was its inability to implement the ₹90,000 crore complete farm loan waiver, which has resulted in an increase in farmer suicides. As many as 900 farmers committed suicide in the past two years. And families of suicide victims are not getting the promised ₹10 lakh compensation or government jobs as promised," he said while asking Congress president Rahul Gandhi if this was the model he was trying to sell elsewhere.
Dares Jakhar to contest from Ferozepur
Majithia also dared Punjab Congress chief Sunil Jakhar to contest from Ferozepur Lok Sabha seat. "If Jakhar is so confident about the performance of the Congress government, he should contest from his home turf Ferozepur. The fact remains that during 2017 polls, Jakhar was outrightly rejected from Abohar and it was only because of the byelection that he won from the Gurdaspur Lok Sabha seat."
Close