Lok Sabha elections 2019: BJP blaming its failures on Congress, says Priyanka Gandhi Vadra
Priyanka Gandhi Vadra also accused BJP govt in UP of being disconnected from ground realities.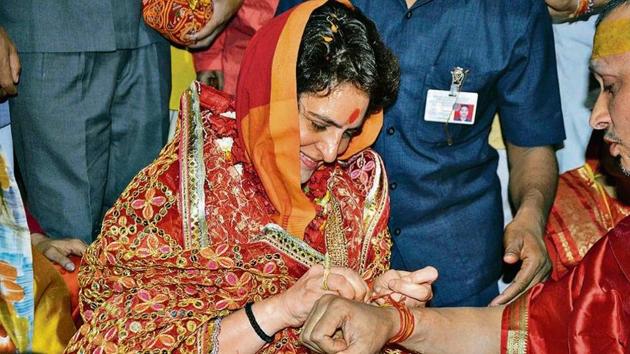 Updated on Mar 19, 2019 11:53 PM IST
The Bharatiya Janata Party (BJP)'s complaint that no development had taken place in the past 70 years has an expiry date, Congress general secretary for Eastern Uttar Pradesh Priyanka Gandhi Vadra said on Tuesday, asking the central government, led by Prime Minister Narendra Modi, what it had done in the past five years.
On a three-day election campaign on board a steamer on the Ganga, Priyanka Gandhi also accused the BJP-led state government of not fulfilling its promises, saying people from different sections were feeling betrayed.
"You [the BJP] are in the government for the past five years. What have you done in the five years?" the 47-year-old leader asked at the Sitamarhi guest house in Bhadohi district, countering the BJP's allegations that Congress-led governments in the past were responsible for several problems the country was facing.
In Sitamarhi, where she had a night halt, she also offered prayers at a temple before resuming her journey that includes stopovers at villages located near river banks and meetings with people. The 140-km long journey, which began on Monday, will culminate in Varanasi, Prime Minister Narendra Modi's constituency. When asked about a report card published by Yogi Adityanath's government highlighting its achievements upon the completion of two years in office, she said, "They [the BJP] need to come to the ground to see the reality. This report card and publicity look good, but the reality is different..."
"There is a big difference between polls promises and fulfilling them. As far as the rant about [no development in] 70 years is concerned, it also has an expiry date...," she added.
"Every day, I'm meeting people from different sections of the society, and I'm getting to know that students, youngsters, shiksha mitras, anganwadi workers and ASHA [Accredited Social Health Activist] workers are feeling betrayed..."
Launching an attack on the Congress leader, CM Adityanath said Priyanka Gandhi's journey was made possible because the BJP ensured that the river was clean. Addressing mediapersons, Adityanath said, "It would have been nice had she taken Rahulji [Congress president and her brother Rahul Gandhi] and leaders of Samajwadi Party (SP) and Bahujan Samaj Party (BSP) along on her Ganga Yatra..." The BJP government has accomplished what four generations of the Congress rule could not, he added.
Close Story