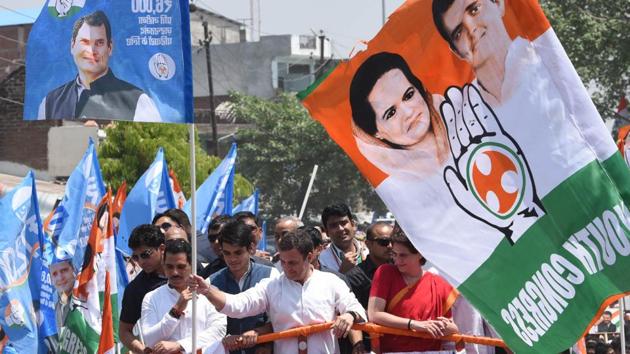 Lok Sabha Elections 2019: From Amethi, Lucknow to Azamgarh, these UP seats have remained loyal to their parties and leaders
While the party may have received a drubbing elsewhere at the hustings, the unwavering loyalty of the voter in some individual strongholds has always saved the day for their very own political masters.
UPDATED ON APR 22, 2019 10:30 AM IST
Political parties and politicians have bastions which they continue to win without fail irrespective of which way the wind is blowing. In fact, such is their sway over voters in these respective strongholds that they have almost become an impregnable fortress for their political rivals' election after election.
So while the party may have received a drubbing elsewhere at the hustings, the unwavering loyalty of the voter in these individual strongholds has always saved the day for their very own political masters.
Thus, Rae Bareli and Amethi have never let down Congress even during its worst patch in 2014 Lok Sabha elections. The Samajwadi Party too has fortified its footprint in at least five parliamentary constituencies, which it never lost since its inception. Mainpuri, Azamgarh, Badaun, Firozabad, and Kannauj stood by the Yadavs during its worst electoral performance in 2014. Sample this: Mainpuri has sent 13 Yadavs to Parliament since 1952. Mulayam Singh Yadav, who is in the fray again this time, won this seat in 2004, 2009 and 2014. In 1999, Balram Singh Yadav won the seat on the Samajwadi Party ticket. In the 2014 by-poll, Tej Pratap Singh Yadav of the Samajwadi Party won the seat.
While it may not be able to repeat its 2014 performance, the BJP still takes pride in flaunting its unassailable position in Lucknow, Varanasi, Baghpat, Bareilly, Pilibhit, Kanpur (though Congress won it in 1999, 2004 and 2009), Mathura, Hathras and Kushi Nagar. Neither the Samajwadi Party nor the Bahujan Samaj Party has been able to wrest these seats from the BJP in the past two decades.
Also Read | Lok Sabha 2019 constituency: Mulayam Singh Yadav has won from SP's bastion Mainpuri four times
These constituencies occupy a symbolic significance for the party, so much so that their prestige rests on retaining these very seats. Lucknow, for instance, has been a BJP bastion since 1998, 1999 and 2004 with three consecutive wins by former prime minister the late Atal Bihari Vajpayee. It voted for BJP leader Lalji Tandon in 2009 and Union Home Minister Rajnath Singh in 2014. Singh, who is seeking re-election, is confident of a landslide.
"We saw a Modi wave in 2014. This time it's going to be a tsunami and we are going to win on the remaining seven seats held by the Congress and the SP," said BJP's Manish Dixit.
A concerted bid, however, has been made by the SP-BSP and the Rashtriya Lok Dal of Ajit Singh, who have forged an alliance and put up a joint candidate Jayant Chowdhary to snatch Baghpat from BJP this time. The same strategy has been adopted to take on the BJP in its other strongholds.
Read | Lok Sabha elections 2019: RLD will seek to win back UP's Baghpat constituency
"The gathbandhan's combined vote share of 2014 is more than what the BJP got in 2014. One reason, why the BJP is jittery, and we are going to win on all these seats this time," says SP spokesperson Abdul Hafiz Gandhi.
"Uttar Pradesh was a Congress bastion only till 1989 when this domination gave way to a phase of coalition governments from 1989 to 1999 characterised by the three political formations, the SP, the BJP and the BSP," says professor AK Verma of Kanpur, who has done research on the politics of social polarisation and its limitations.
"Electoral arithmetic and political compulsions are the two main reasons for their presence," says professor Yashbir Tyagi, adding that caste was a major factor during elections.
"The failure of national parties to fulfil the aspirations of all castes and communities is another factor why these regional leaders have developed their own pocket boroughs," he said. But gradually, this party or individual stronghold concept, which at times is also used as a marketing ploy by political parties, is coming to an end due to awareness among voters. And I won't be surprised if one sees some unexpected results this time, he said.
Close