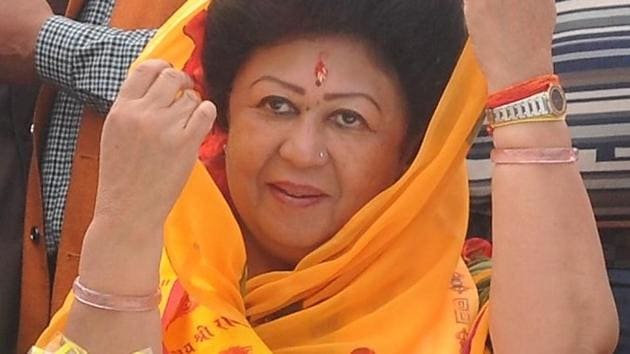 Lok Sabha Elections 2019| 'People will witness change in few years':BJP candidate Mala Rajya Laxmi Shah
Sitting MP of Tehri Garhwal Lok Sabha constituency, Mala Rajya Laxmi Shah, will once again contest the election from here. The BJP leader spoke to HT.
UPDATED ON MAR 25, 2019 04:20 PM IST
The Bharatiya Janata Party has renominated its sitting Member of Parliament Mala Rajya Laxmi Shah from the Tehri Garhwal Lok Sabha constituency in Uttarakhand. Shah spoke to HT, Shah said nothing can be changed overnight and time is needed, both at the Centre and state.
The prime minister advocates of Swachh Bharat Abhiyan and yet there's no toilet in one of the busiest markets in the constituency.
I have no clue of this problem. As you know, it's difficult to visit every village in the Lok Sabha constituency which has 14 assembly segments.
Health, education and employment are some of the key problems in the constituency.
These issues are not only restricted to Tehri Lok Sabha constituency but every area in the state. Our chief minister Trivendra Singh Rawat has taken cognizance of these problems and is working towards bettering the state as well as ensure development. During my tenure, we have successfully managed to start a few government health centres under Public Private Partnership (PPP) mode. Similarly, there's no corner of state where there isn't a government school. Having said that we can't open degree colleges everywhere. Things are progressing and people will witness change in few years. Overnight nothing can be changed. Our government needs time, both at the Centre and state.
Unlike neighbouring Pauri constituency which has reported some special development projects like All Weather Road, do you think Tehri lags behind?
Not at all. We have worked extensively towards strengthening tourism in my area. The work of All Weather Road is progressing in Tehri, too. Tehri Dam is country's longest dam and world's largest hydropwer project. There are other places of interest like Budha Kedar and Katling glacier. By improving tourism opportunities, we are also working towards connecting livelihood opportunities of locals with it.
Close