Lok Sabha elections 2019: Politics goes TikTok in new-age campaigning
The app is TikTok, and its virtually inexhaustible library of prompts, and easy editing tools, using which people can create their own short videos, has resulted in a veritable deluge of political memes or just political videos.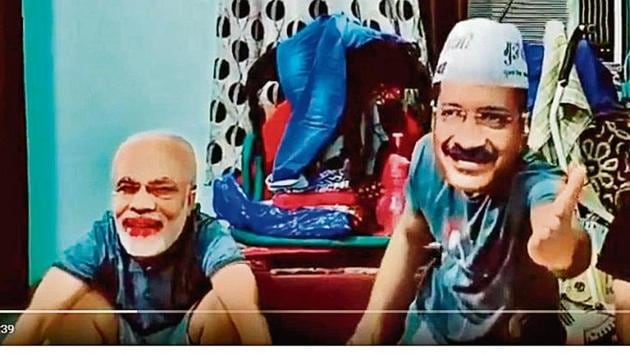 Updated on Mar 19, 2019 04:51 PM IST
A short-video app made for mobile phones, and launched in 2016, is providing some zing in the run up to the 2019 Lok Sabha elections, widely hyped as India's first social media election.
The app is TikTok, and its virtually inexhaustible library of prompts, and easy editing tools, using which people can create their own short videos, has resulted in a veritable deluge of political memes or just political videos. People can lip-sync to some of Prime Minister Narendra Modi's speeches, make a meme featuring Congress president Rahul Gandhi's "Chowkidar Chor Hai" (the watchman is a thief) barb aimed at Modi, or just riff off Delhi chief minister Arvind Kejriwal's dismissive "Toh kar na" (then, why don't you do it; a remark aimed at the Opposition in the Delhi assembly).
In January, there were 60 million active Indian users who together spent 12.8 billion minutes on it, as per data by Comscore, a mobile analytics firm. That's almost 3.5 hours a month per user. With the average length of the most popular TikTok videos being 15-20 seconds, that's a lot of videos (630-840 actually).
As per Sensor Tower, another analytics firm, the app has been downloaded close to 260 million times in India. Analysts aren't sure that number will stay high, but based on these numbers, it's safe to say that TikTok is definitely the flavour of the season — and that fact isn't lost on political parties, even if some of them aren't fully convinced about it.
The Congress social media cell's chief, Divya Spandana, says TikTok is less political compared to other platforms such as Facebook and Twitter, but adds that it is entertainment combined with shock value, making it an unusual platform for people who use Twitter and Facebook regularly.
"TikTok has a lot of young users, including first-time voters who are the ones to be targeted. We do have a lot of our volunteers who use the app. I have seen videos of some of Rahul Gandhi's one-liners like 'chowkidaar chor hai' on TikTok," she said.
The Aam Aadmi Party's (AAP) social media strategist, Ankit Lal, echoes Spandana and adds that TikTok has brought humour and fun back on the Internet. "While the party [AAP] does not have any organised presence on the platform, individual volunteers use the platform to share quirky messages regularly," he said
"It [TikTok] is definitely more enjoyable. The number of people abusing you is fewer. The platform gives you an opportunity to express and share your message in a concise manner and make it funny at the same time."
BJP's information technology cell chief, Amit Malviya, told news agency Reuters on February 17 that his party was tracking TikTok and called the app "a brilliant medium for creative expression". He did not respond to multiple calls and text messages for comment.
To be sure, no political party has an official presence on TikTok (ensuring plausible deniability if the humour doesn't work). All political content on the app is primarily volunteer driven, according to the parties.
TikTok said it does not have any plans of proactively getting politicians and political parties on board (political ads are a key part of Twitter and Facebook's revenue stream), but it is open for anyone to join and express views and showcase talent as long as it is in line with its community guidelines. "...TikTok has received an overwhelming response in India. The number of users has grown rapidly and TikTok was even crowned as one of India's most entertaining apps, according to Google Play Awards 2018," TikTok said in an emailed statement.
Facebook has approximately 300 million, WhatsApp over 230 million and Twitter close to 30 million users in India. But unlike any of them, TikTok, owned by Chinese company Beijing ByteDance Technology Co, capitalises on short term creative content that other platforms do not encourage.
Politics isn't the biggest thing on TikTok; entertainment is, followed by random slice-of-life videos that people hope will go viral (some do), but in recent months, many political speeches and slogans have been used to create humorous and funny political videos on the app.
To offer one example, Delhi chief minister Arvind Kejriwal's speech in the Delhi assembly where he said "Toh kar na" in October 2017 has been spoofed across multiple videos on TikTok.
And, to offer another, a 20-second video clip in which Congress president Rahul Gandhi said he knows of a machine that "if fed potato, will give gold in return", which went viral on social media, in the run-up to the Gujarat assembly elections held in December 2017 has also become fodder for multiple spoof videos on TikTok.
Social media strategists of political parties say they are asking volunteers to engage with and use the app, apart from reaching out to influencers who have already made a name (and have a following).
"Anything that has short snappy video content and is easily shareable will work this election season. TikTok has all of those features," said Rahul Matthan, a tech policy expert. "TikTok is a popular app just like a bunch of other social apps and political parties recognise that. At this point, political parties want to get into YouTube and Twitter, and increasingly they cannot ignore TikTok either. Its the right platform when you're targeting first time voters because it has a relatively young user base. Smart political parties will try and understand who their target users are and will focus their social media activities on the platforms that they use."
Kailas Karthikeyan, a New Delhi-based technology policy consultant, said TikTok's intense focus on being an easy to use short video product has made it popular among the rural population.
"Its artificial intelligence curation engine, combined with data sets that come from diverse and large sets of users, have enabled it to create compelling individualised experiences that users want to keep coming back to," he said.
"Parties who want to use the platform before the general elections would have to try and disseminate content organically. I would think the AI engine would treat election campaign material no differently from any other type of content," he added.
TikTok was launched in 2016 to enable users to create and share short singing and dancing videos set to well-known songs.
In August 2018, ByteDance scrubbed its other video brand, Musical.ly, in favour of TikTok because it better reflects the breadth of content created on the platform that extends beyond music to comedy, performance art and more, according to a Reuters report on August 2, 2018.
In late 2018, ByteDance was valued at $75 billion.
Close Story
Personalise your news feed. Follow trending topics