Lok Sabha Elections 2019: Rajasthan governor Kalyan Singh bats for PM Modi's re-election, says 'we are all BJP workers'
Governors, who are often described as the President's eyes and ears in the state, are expected to steer clear of politics.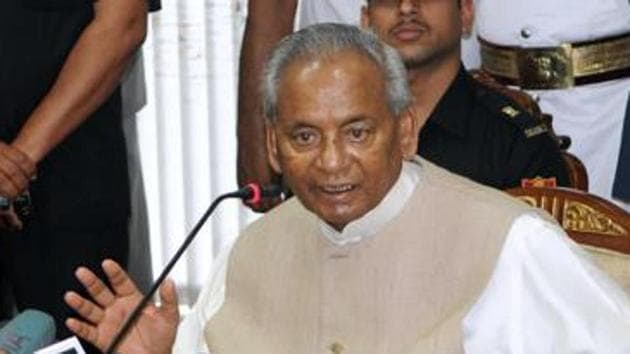 Updated on Mar 25, 2019 11:53 PM IST
Rajasthan governor Kalyan Singh found himself in the middle of a controversy after a video, in which he purportedly described himself as a "BJP worker" and called for the victory of the ruling coalition at the Centre led by Prime Minister Narendra Modi, surfaced over the weekend.
"We all are BJP [Bharatiya Janata Party] workers and we want the BJP to emerge victorious. We want that once again Modi ji should become the PM. It is important for the country," Singh is heard saying. He purportedly made these comments on March 23 in his home district of Aligarh while trying to pacify some BJP workers who were unhappy with sitting party MP Satish Gautam being renominated from the seat. Gautam sought Kalyan Singh's blessings and filed his nomination papers on Monday.
The Congress accused Singh of destroying all constitutional norms by speaking in favour of a political party. "The statement by Kalyan Singh has completed destroyed constitutional morality. A governor seeking votes for a political party is violation of all norms associated with the office and he should immediately resign," said Congress spokesperson Randeep Surjewala.
Rajasthan chief minister, Ashok Gehlot, tweeted: "The post of Governor is a constitutional post and in democracy, it is expected from Governors to be non-partisan and maintain distance from party politics. It is really unfortunate that Sh. Singh has made such statements which do not suit the dignity of the post he is holding." Deputy chief minister Sachin Pilot called Singh's statements "unfortunate" and "against the dignity" of the constitutional post.
Pana Chand Jain, a former Rajasthan High Court judge and a constitutional expert, said a governor is not a party man and is appointed by the President of India. "It's a constitutional post and governors should desist from expressing such opinions," he said adding that such statements by a public servant, including governors, are prohibited under election code of conduct.
BJP state president Madan Lal Saini refused to comment on Singh's statement. Even the governor's house in Jaipur did not respond to queries sent by HT.
Back in the late 1980s, the Sarkaria commission that looked into relations between the Centre and state had recommended that active politicians should not be appointed governors. However, successive governments have flouted this suggestion. Kalyan Singh, a former chief minister of Uttar Pradesh, quit the BJP in 1999 but returned to the party in 2004.
Close Story