Lok Sabha elections 2019| Step out to vote: Schools, students teach citizens
Students of Mount Litera School International (MLSI) have recorded a rap song, Vote do, to urge people to vote.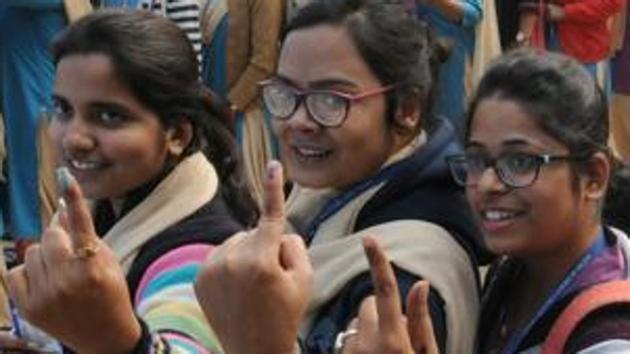 Published on Apr 25, 2019 01:53 AM IST
Yesha Kotak and Ankita Bhatkhande
From holding mock polls to composing rap songs to urge voters to cast their ballots, schoolchildren from the city are trying their best to create awareness about the elections on Monday.
Students of Mount Litera School International (MLSI) have recorded a rap song, Vote do, to urge people to vote. "An election decides the future of a country. As minors, we can't vote, but can definitely contribute to make the general elections a success. After all, our future depends on it too," said Sanjamm Kaur Singh, a Class 8 student from the school.
At Malad's Mainadevi Bajaj International school, students from nursery to Class 6 participated in an activity, My First Vote, in which the school conducted a mock poll. "To keep the exercise at their level and make it fun, we decided to choose activities and hobbies rather than candidates. At the end of this experience, students were given a ballot paper listing all activities which they had to stamp and put in a ballot box, after which their fingers were inked," said Nitin Padte, school director.
At Universal School, Ghatkopar, students replicated the Election Commission pattern for their student council elections held on April 15. "This isn't the first time we are having these elections. This has been the practice for the past seven years. The idea is that as students have to exercise their right in the future, they might as well know about it now," said Kavita Malhotra, principal of Universal School, Ghatkopar.
On the other hand, a 17-year-old student of Dhirubhai Ambani School has been running a campaign, Vote India, for his NGO Dil Se, as part of which he has been visiting schools across the city to create awareness about voting rights. So far, he has visited 17 BMC schools and addressed over 3,000 children. "Although these children are not eligible to vote now, I believe that the responsibility of voting should be instilled at a young age and this will ensure these kids grow up to be responsible citizens," Hriday Tulsiani from Dhirubhai Ambani School.
Close Story