Lok Sabha elections 2019: Women candidates in Rajasthan raise poll pitch on crime rate, water crisis and toilets
The Congress fielded four women candidates – Jyoti Khandelwal from Jaipur, Jyoti Mirdha from Nagaur, Krishna Poonia from Jaipur Rural, and Savita Meena from Dausa.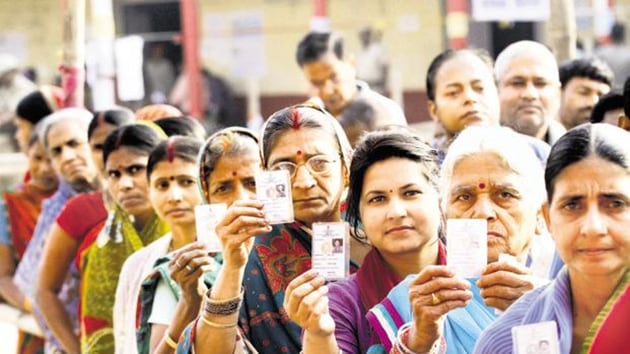 Published on May 02, 2019 01:04 PM IST
Hindustan Times, Jaipur |
Nikita Bishnoi
From a qualified physician to a school dropout, seven women candidates are in the fray for Lok Sabha polls in Rajasthan. Their family and professional backgrounds vary from being a member of an erstwhile royal family to an Olympian to a homemaker.
Travelling nearly 20-25 villages in a day and carrying out door-to-door campaigns and holding public meetings, these candidates are raising women centric issues. The candidates are primarily focusing on local issues, not the nationalism debate. Drinking water, crime rate, public toilets, accidents on highways and school infrastructure are being raised.
The Congress fielded four women candidates – Jyoti Khandelwal from Jaipur, Jyoti Mirdha from Nagaur, Krishna Poonia from Jaipur Rural, and Savita Meena from Dausa. The BJP'S women candidates are Diya Kumari contesting from Rajsamand, Ranjeeta Kohli from Bharatpur and Jaskaur Meena from Dausa.
Jaskaur Meena (71), former union minister, is currently in-charge of the BJP'S Scheduled Tribe Morcha at the national level. An MA and a BED from University of Rajasthan, Meena has served as a teacher and an educational administrator in the state women and child development department. She has raised women issues at public gatherings.
"To relieve themselves, women had to wait for the sun to go down in several villages of our constituency. Open defecation was so prevalent in the area. After construction of toilets, women of my constituency are now leading a life of dignity. Such is the work of the (Narendra) Modi government," said Jaskaur Meena.
In Jaipur Rural constituency, Krishna Poonia (41), an Olympian and sitting MLA from Sadulpur, is contesting against BJP'S Rajyavardhan Singh Rathore, another Olympian. Having raised highway accidents issue in public interactions, Poonia has been holding sabhas at the panchayat headquarters which comprise special sessions with women.
"This is for the first time that the women in such large numbers have come to gatherings. During campaigns, women call me up for discussing about their issues. Wherever women see me campaigning, they themselves come to interact with me," said Poonia.
Diya Kumari (48), former MLA from Sawai Madhopur and a member of erstwhile Jaipur royal family, said, "In a state like Rajasthan, where women are conservative, they prefer women candidates so they can approach her easily. They prefer someone they can get to directly and talk about everything." Jyoti Khandelwal (44), a postgraduate degree in science, said that even after her tenure as a mayor was over, she has always been connected to the people of Jaipur and has been involved in sorrow and happiness of women in the area. "I have been involved with the people of Jaipur with all my heart. I have full support of the women too. People are concerned about the local issues related to urban development, such as metros and transport, and I am assuring them that all this would be made possible," said Khandelwal, pitted against BJP'S sitting MP Ramcharan Bohra who won the 2014 polls by 5 lakh votes.
"When the difference between winning and losing candidate is as large as it was in the previous lok sabha elections, any candidate should contest with a lot of responsibility. I have firm connection with the people of Jaipur which the present MP lags and therefore I have an edge over him," said Khandelwal, the first woman candidate fielded by the Congress from Jaipur LS seat after over 45 years.
While some candidates are contesting polls for the first time, others have political career and even belong to political families. Jyoti Mirdha (47), who belongs to a political family in Nagaur, has served as a member of parliament during 2009-2014; Ranjeeta Kohli (39), daughter-in-law of former MP Gangaram Kohli, is contesting for the first time.
Having contested elections for two consecutive terms, winning one and losing the other, Mirdha often refers to her grandfather Nathuram Mirdha in her speeches. Nathuram was a member of Lok Sabha and Rajasthan assembly for several tenures. "If my family has been involved in politics of Nagaur for such a long time, it is because they have won hearts of the public and not because of bullying," said Jyoti Mirdha at a public gathering in Makrana.
Ranjeeta Kohli (39) is seen more during the door-to-door campaign. Being a school dropout having studied till Class 9, Kohli is often found to be skipping interviews and public appearances. "I may not be educated enough but I have good sanskars," said Kohli at a public meeting. When she is present at the meetings, other BJP leaders of the area take up the stage. "BJP will win in these elections. We will take everybody along and Modi ji will become the Prime Minister again," said Kohli.
Dausa is witnessing tough contest from two women candidates. Jaskaur Meena is pitted against Savita Meena (54), wife of Dausa sitting MLA Murari Lal Meena. During public meetings, Savita Meena has often attacked BJP, asking about the development works by its government.
"Congress works for 'sabka vikas' (everybody's development) while taking everybody together," said Meena at Bandikui.
Close Story