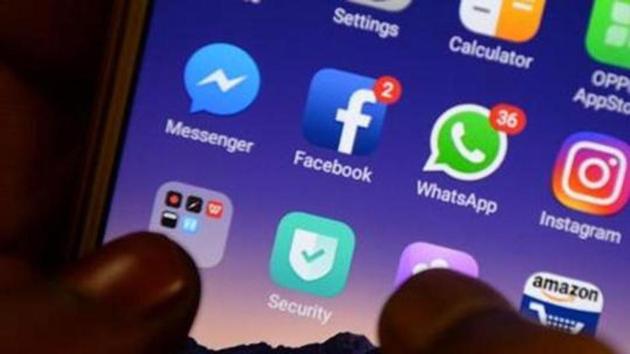 Social media profiles of parties, leaders to be under EC scanner
The Chief Election Commissioner (CEC), Sunil Arora announced that the model code of conduct would apply to content posted by the candidates and they would be required to provide details of their social media accounts to the panel.
Hindustan Times, New Delhi | By Rajeev Jayaswal
UPDATED ON MAR 11, 2019 12:35 AM IST
Political parties and their star campaigners may have to be extra careful while posting content on social media, particularly from verified accounts, during the 48-hour "silent period" before polling to avoid a violation of the model code of conduct, which came into effect with the announcement of the 2019 Lok Sabha polls on Sunday, three government officials with direct knowledge of the matter said.
In absence of laws to regulate social media, it has also been proposed that intermediaries, such as Facebook, WhatsApp, Instagram, Twitter, Google, YouTube and Snapchat, should be asked to take adequate measures to effectively respond to any misuse of their platforms and remove such messages quickly within 2-3 hours, the officials working in three different ministries said on condition of anonymity.
This "voluntary compliance" idea was initially mooted by the ministry of electronics and information technology (Meity) to curb any misuse by the intermediaries that enjoy certain immunity under the existing information technology (IT) laws, said the officials.
The Chief Election Commissioner (CEC), Sunil Arora also announced on Sunday that the model code of conduct would apply to content posted by the candidates and they would be required to provide details of their social media accounts to the panel. All political advertisements on social media will also require pre-certification, he added.
"The intermediaries, viz Facebook, Twitter, Google and YouTube, have committed in writing to ensure that any political published on their platforms will be certified from MCMC [Media Certification & Monitoring Committees]," Arora said.
He added that the social media platforms have assured the commission they would appoint grievance officers to take "necessary and prompt" action against any poll-related violation and check fake news and hate campaigns.
The Internet and Mobile Association of India (IMAI) has informed the commission that it is formulating a code of ethics for polls, "which is a work in progress", the CEC said.
The IT Act, 2000 provides some immunity to the "intermediary" under section 79 that protects them from liabilities arising out of any third party information. Although, the immunity is not absolute, it is proposed to sound both intermediaries as well as their verified users to respect the law of the land in letter and spirit, one of the three officials, quoted above, said.
"Pending enactment [of legislations to regulate social media], Election Commission [EC] can issue guidelines for social networking sites as in the case of print and electronic media to ensure free and fair elections across the country," said a former EC official who asked not to be named.
Spokespersons of Meity and the law ministry did not immediately respond to queries on this subject.
"It is true that we do not have a perfect legal mechanism to tackle social media during elections. In such matters, where legal positions are not explicitly defined, the EC has powers to spell out SOPs [standard operating procedures]. For example, on Saturday it refrained political parties from making references to the armed forces in their political campaign," Yatinder Chaudhary, a Supreme Court advocate and leader of the Bharatiya Janata Party (BJP), said.
A statement issued by EC after a two-day review of poll preparedness of Jammu & Kashmir on March 5 said that the commission was aware of the increasing concern about emerging role of social media in the spread of information.
"The commission has issued orders for partial modification in earlier guidelines that the Media Certification & Monitoring Committees at district and state level will need to be reconstituted with the inclusion of an Intermediary expert /social media expert," the statement said.
Legal experts said that monitoring verified social media accounts is easier. Some social media platforms and microblogging sites such as Facebook and Twitter verify important individual accounts in public interest and certify the same with a blue badge of authenticity.
Both Facebook and Twitter have verified accounts of several political institutions and their leaders such as Prime Minister Narendra Modi, finance minister Arun Jaitley, Congress president Rahul Gandhi, the Bharatiya Janata Party (BJP), the Indian National Congress and the Aam Aadmi Party (AAP).
"Representatives of the intermediaries are aware of their poll-related responsibilities and they have assured that they would not allow their platforms to be misused during the coming general elections. Although they have their own systems of checks and balances, the Election Commission is empowered to issue specific instructions in this regard," a second official, quoted above, said.
Almost all major political leaders are present on social media platforms. "They have very large followings on social media, particularly Twitter, which could have cascading effect to influence voting behaviour, especially in the last 48 hours of the silent period," the official said.
Commenting on the measures announced by the Election Commission to address fake news and hate speech during the upcoming general elections, lawyer Rahul Mattan said,
"It's hard to say whether it will be enough. Measures like this are likely to help but given the power and reach of social media I am sure people will search for loopholes to exploit," said Mattan who is also the author of Privacy 3.0.
Close