Akhilesh Yadav says announcement of new SP president before Sept 30, takes a dig at Adityanath
Updated on Apr 02, 2017 09:50 AM IST
Akhilesh addressed an impromptu press conference at the SP office in Lucknow even as his party held a national executive meet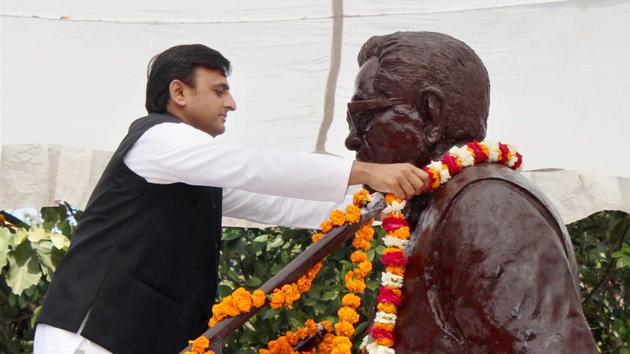 Former Uttar Pradesh chief minister Akhilesh Yadav said on Saturday that his Samajwadi Party will choose its next national president before September 30, triggering specualations of his stepping down from the post.
Akhilesh's party, which fought the recently held assembly elections in alliance with the Congress, suffered a defeat at the hands of the Bharatiya Janata Party, which came to power in the politically crucial state with a brute majority.
The run-up to the elections saw a fierce infighting in Akhilesh's family, with the then chief minister snatching the post of national president from his father, Mulayam Singh Yadav. The Akhilesh faction stripped Mulayam's brother, Shivpal, of his state presidentship.
On Saturday, Akhilesh addressed an impromptu press conference at the SP office in Lucknow even as his party held a national executive meet.
Akhilesh did not clarify or speak further on the election of the new president. Traditionally, the SP always re-elected the existing president --- barring a January 1 emergency convention where the party handed Akhilesh the mantle.
In his address, Akhilesh also took jibes at the new administration led by Yogi Adityanath, a 44-year-old Hindutva leader.
Talking about reports of 'shudhikaran (purification)' of the 5-Kalidas Marg --- the official CM residence, Akhilesh said: "When we will form the government again in 2022, we will sprinkle Ganga jal with the help of fire brigade not only on 5-Kalidas Marg but also in all the government offices (to purify them)."
Referring to Adityanath's last Lok Sabha speech taking a dig at Akhilesh's age, the former CM said: "Of course, he is an year older to me, but so far the work is concerned, he is far too small than me..."
On law and order, Akhilesh said: "Incidents are happening all over the state now, but they are not being highlighted with Yogi's picture -- the way media used my picture while reporting (such) incidents earlier."
Personalise your news feed. Follow trending topics