'Congress, All India Muslim Personal Law Board must apologise to Muslim women now'
Mohsin Raza on the significance of Supreme Court order on triple talaq.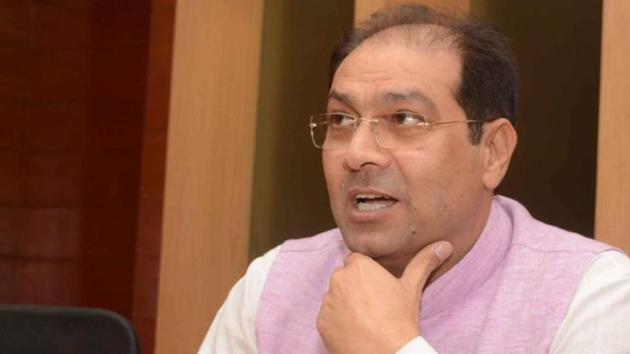 Published on Aug 23, 2017 01:01 PM IST
Uttar Pradesh government's Muslim face Mohsin Raza spoke to HT on the significance of the SC order on triple talaq. In an interview with Manish Chandra Pandey, he blamed the All India Muslim Personal Law Board(AIMPLB) and the Congress for keeping quiet on the exploitation of Muslim women for so long.
Excerpts:
Do you see the 'triple talaq' order as an endorsement of Modi government's stand on the issue?
Why talk of political endorsement. It's a historic order that would liberate our sisters from the exploitation they suffered for so long. And who made them suffer? It was the All India Muslim Personal Law Board and the Congress that refused to act against this exploitation for obvious reasons. Remember how the then Congress government circumvented an SC judgement in the Shah Bano case through an act in 1986. That's how Muslim women were made to suffer for vote bank reasons.
It was Prime Minister Modi who had first taken up the issue in a political rally in Bundelkhand. Is that the reason why the BJP appears so jubilant at the court decision?
As a Muslim I would thank PM Modi from the bottom of my heart for raising an issue that all politicians and political parties were afraid of touching. Now, you would see how life changes for our sisters who were divorced on phone, over e-mail and on whatsapp!
That's why I asked if you see the decision as a political endorsement of Modi government's stand?
As you know, Modiji raised it first and we also mentioned it in our UP manifesto. We had promised to help Muslim women and by putting forth their views before the apex court we kept our word. See, triple talaq as it was being practised was neither a part of shariyat nor the constitution.
But you are unusually harsh on AIMPLB. Why is that so?
There is a reason. How can an NGO that the AIMPLB actually is be so powerful that it started influencing decisions, being oblivious to exploitation of women?
To be fair, AIMPLB had talked of discouraging the practice of instant divorce. Then why be so critical of them?
They started looking within only when they realised that their tactics to suppress Muslim women won't work any longer. In fact, I would say that if the Board still refuses to see reason after the SC order and remains rigid, then it should be banned. In fact, both the Board and Congress must apologise to Muslim women.
What do you make of demands that any proposed legislation on triple talaq must be enacted keeping shariyat in mind?
Don't you think the SC order would have kept Shariyat in mind while making a decision. Our only guide is the holy Quran and it doesn't say anything on triple talaq as was being practised. The SC heard all the parties before making the decision. What's the point of any debate now?
Would the stand help BJP reach out to Muslim women?
We never looked at it from that point of view. But if they do, we will be happy.
Close Story
Personalise your news feed. Follow trending topics