Cataract surgeries conducted under torchlight in Unnao, doctor suspended
Updated on Dec 27, 2017 08:59 AM IST
District authorities are conducting a probe into the surgeries conducted by Dr Nutan Saxena and two others at the Nawabganj healthcare centre which did not have adequate facilities or electricity.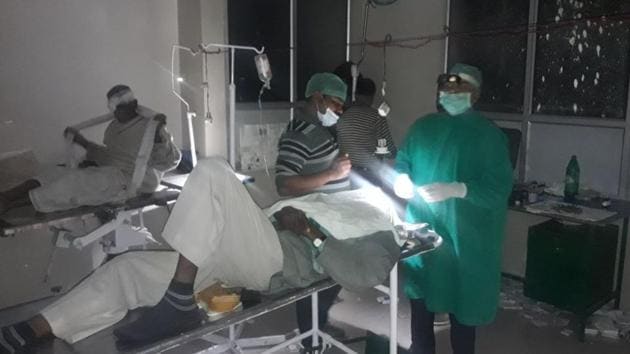 Hindustan Times, Kanpur |
, Kanpur:
Haider Naqvi
At least 32 people in Uttar Pradesh's Unnao were operated for cataract at a government hospital in torchlight on Monday night, prompting authorities to transfer the district's top health official and suspend a doctor for negligence and violation of norms.
The surgeries were conducted under the light of two torches at the primary healthcare centre (PHC) in Nawabganj, which like many rural areas of Uttar Pradesh gets electricity for only 12 hours a day.
"This is height of negligence. No one will be spared," Unnao district magistrate Ravi Kumar N said on Tuesday.
Kumar ordered a probe by joint magistrate Manish Bansal and additional chief medical officer RK Gautam after he was told about the surgeries, which were carried out during an outage.
Power went off at around 7pm on Monday night and came back on Tuesday morning, sources said.
Chief medical officer (CMO) Rajendra Prasad gave the permission for the surgeries in violation of norms, sources said. While Prasad was transferred, PHC superintendent Dinesh Dass was suspended for negligence.
The CMO overlooked rules that said surgeries should be conducted at community health centres that were better equipped, sources quoted probe findings as saying.
A five-bed facility, the Nawabganj PHC took in 32 patients even though it is not equipped for eye surgeries.
PHCs are the cornerstone of rural healthcare that typically have one physician and provide basic care.
Dr Nutan Saxena, who carried out the free-of-cost surgeries along with two others, works with an NGO, Jagdamba Sewa Samiti, which got the patients from Kanpur.
After the procedure, the patients lay on the floor for more than six hours in biting cold and were provided blankets and mattresses only after the district magistrate rushed a team of medical officers to Nawabganj, sources said.
A team of doctors was examining the patients on Tuesday evening after they were hurriedly sent off in the morning when they complained of itching.
"Most of us have severe itching in the eyes. It is unbearable and doctors are not attending to us," Rajaram, who is from Mahatawan, told HT earlier in the day.
There is an acute shortage of ophthalmologists in Uttar Pradesh and to bridge the gap, the state government has entered into a contract with non-government organisations.
The NGOs bring in people who need surgeries and also arrange for cataract surgeons, with the government providing the infrastructure.
For Monday's surgeries, the NGO was to be paid Rs 1,000 per patient, officials said.
The Nawabganj health centre had a generator for power backup but the NGO did not use it as it would have to buy diesel to operate it, villagers told HT.
Personalise your news feed. Follow trending topics