Lucknow Metro is a green system
Sep 01, 2017 04:22 PM IST
The Indian Green Building Council – one of the apex bodies in India to rate and certify a system as a 'green' system – has certified Lucknow Municipal Rail Corporation (LMRC) a 'green metro rail system'
The Indian Green Building Council (IGBC) – one of the apex bodies in India to rate and certify a system as a 'green' system – has certified Lucknow Metro Rail Corporation (LMRC) a 'green metro rail system', awarding platinum certificate to all its eight Metro stations on the 'priority corridor' from Transport Nagar to Charbagh due for inauguration on September 5.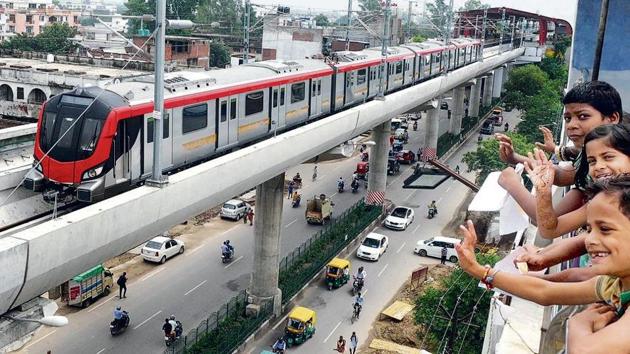 Platinum certificates and plaques for 8 stations of the priority corridor were handed over to managing director LMRC Kumar Keshav by S Raghupathy, deputy director general, CII- IGBC.
Expressing happiness, Kumar Keshav said, "It will have a recurring effect on saving of energy at the station. This platinum certification is an important step towards making Lucknow Metro sustainable".
Lucknow Metro registered 8 stations under 'green mass rapid transport rating system' developed by Confederation of Indian Industry (CII) – Indian Green Building Council, at the very beginning of the project itself.
The audit by external agency continued for two years, continuous monitoring the project by site visit and collecting information at different stages.
Read more: Lucknow hopes for ride to a cleaner tomorrow
Kumar Keshav said, "The broad purpose of getting this certificate is to achieve the twin goals of sustainable development and low carbon growth and minimising threats of climate change. With benefits ranging from water conservation, energy efficiency, use of renewable energy, rain water harvesting, material conservation and commuter facilities, LMRC's Platinum certified stations are set to provide world class experience to the people of Lucknow."