Mard ko dard hota hai, says crusader highlighting domestic violence against men
Mohd Khwaja Aminuddin Shareef left a well-paying job to begin a 35,000-km motorcycle journey across Indian to highlight growing incidents of domestic violence against men, who are often forced to stay silent for fear o f being implicated in false cases.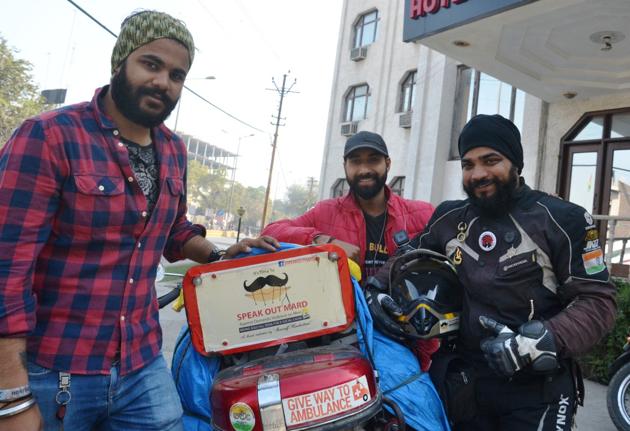 Updated on Mar 01, 2017 09:54 AM IST
A popular adage in India says that "mard ko dard nahin hota" (men do not feel pain).
Mohd Khwaja Aminuddin Shareef is out on a 35,000-km motorcycle journey, just to prove it wrong.
An MBA from Visakhapatnam, Shareef is concerned over the increasing rate of suicides by married men due to domestic violence, a rarely spoken about subject in the country.
Shareef runs a Facebook page, 'Speak Out Mard', that urges men to speak up against domestic violence they face.
Ameen Shareef, as he is fondly called, begun his ride on a Royal Enfield bike from his home town on January 24.
His journey will cover 29 states and five Union Territories besides touching Nepal and Bhutan. As per his estimate, the journey would last at last four months before it ends in Vizag.
On Tuesday, he was in Agra before moving towards Lucknow. Riding on the Lucknow-Agra Expressway, Ameen talked at length about his ride.
"This is a ride to highlight the agonies and torture that men, especially those married, face and are not able to speak against it," said Ameen who carries bitter memories of his marriage and alleged torture.
Ameen cites data which shows that every 8.5 minutes a married man commits suicide because of not being allowed to speak against domestic violence he faces.
"The maxim 'mard ko dard nahin hota' is false and misleading. I have created a Facebook page… for married men left alone to fight their way," said Ameen, who got married to a divorcee in March 2013 and has a three- year-old daughter whom he is allegedly not allowed to meet.
"I was shattered due to what happened with me after marriage and I went on to research ways to commit suicide. But I thought of my daughter and that changed things. I quit my job in a multinational company in December 2016 and began my ride on January 24," added Ameen, who left a hefty pay package for his cause.
"Married men are expected not to complain despite being threatened that they will be implicated in false cases of dowry harassment or domestic violence. In fact, the stigma of shame in speaking out should be shrugged off by men, setting example for other husbands," said the rider who claims huge support for his mission.
Vikram Shukla, coordinator of 'We Royal Riders', welcomed Ameen in Agra.
"We welcome any rider who comes to our city. Ameen is a lovely human being and did not deserve the raw deal after marriage," said Vikram.
Close Story
Personalise your news feed. Follow trending topics