Rajbhar blames bypoll defeat on party's CM choice
"The BJP contested 2017 assembly polls with Keshav Prasad Maurya (an OBC) as its face but later Yogi Adityanath was made the chief minister. Backwards supported the BJP in the hope that Maurya will become the CM. The result of this anger reflected in the defeat of the party in the bypolls."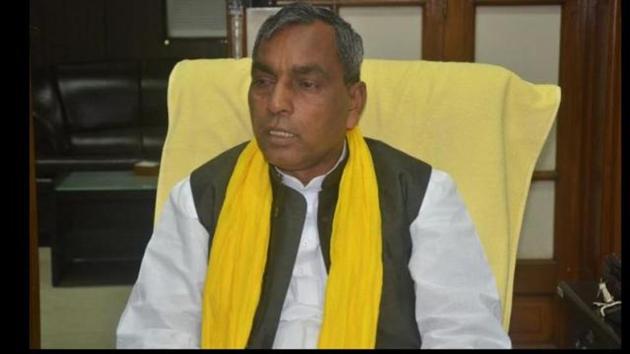 Published on Jun 05, 2018 12:30 PM IST
HindustanTimes, Lucknow/Varanasi |
, Lucknow/varanasi
Umesh Raghuvanshi & Sudhir Kumar
On a day chief minister Yogi Adityanath met BJP chief Amit Shah and deputy chief minister Keshav Prasad Maurya in New Delhi on Monday, his ministerial colleague Suheldev Bharatiya Samaj Party president Om Prakash Rajbhar has blamed the defeat in Kairana Lok Sabha and Noorpur assembly bypolls on the party's failure to make an OBC the chief minister of the state.
"The BJP contested 2017 assembly polls with Keshav Prasad Maurya (an OBC) as its face but later Yogi Adityanath was made the chief minister. Backwards supported the BJP in the hope that Maurya will become the CM. The result of this anger reflected in the defeat of the party in the bypolls," SBSP chief Om Prakash Rajbhar reiterated on Monday.
Rajbhar said the 2017 assembly elections were fought under the leadership of Maurya, who worked tirelessly and earned the support of OBCs for the BJP. "People voted BJP to power hoping to see Maurya as the CM of the largest state," he said.
Rajbhar said despite a landslide victory, Adityanath was appointed chief minister, giving jolt to the hopes of the OBCs. "Therefore, they are angry, which is responsible for the defeat of BJP in the by-polls. The BJP should seriously introspect causes of its defeats," he said.
Rajbhar had been consistently targeting the Yogi Adityanath government in the past too.
Yogi Adityanath, meanwhile, met BJP president Amit Shah and deputy chief minister Keshav Prasad Maurya in New Delhi on Monday. Maurya is undergoing treatment at the AIIMS. Much significance is being attached to Yogi's meetings with Shah and Maurya in the backdrop of statement of Rajbhar.
Sources aware of the meeting said Yogi briefed Shah about the unfolding developments following the defeat of BJP candidates in Kairana and Noorpur. Yogi's meeting with Maurya is also being considered a move to give a political message that "all is well" between the two leaders.
Amid indications that Yogi may undertake a ministerial reshuffle to boost his government's image in coming weeks, questions are being raised about Rajbhar's fate as a minister. The BJP has already worked out a strategy to counter Rajbhar and control the damage being done to the party by his many statements against the government.
Besides giving a boost to the BJP's own leadership in the Rajbhar community (with the nomination of Sakal Deep Rajbhar to Rajya Sabha), the BJP has also decided to bring the issue of reservation to most backward classes and the maha Dalits to the fore. Prime Minister Narendra Modi too spoke on the issue at Baghpat recently. A Central committee constituted to make recommendations on quota within quota is also expected to submit its report soon.
BJP spokespersons in Delhi, when contacted, declined to comment on the issue.
Close Story