Uddhav's jibe at Modi govt: I have come to Ayodhya to wake up Kumbhkaran
Published on Nov 25, 2018 07:55 AM IST
Quoting his father, late Balasaheb Thackeray, Uddhav said: "My father used to say that Hindutva is in air that we breathe. What will happen if we forget to breathe."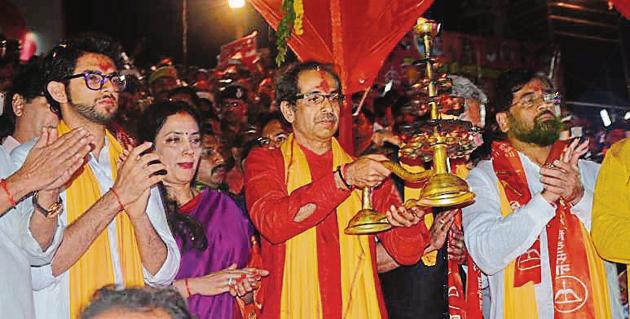 Shiv Sena chief Uddhav Thackeray on Saturday attacked the Modi government and asserted that he had to come to Ayodhya to wake up 'Kumbhkaran' "who is sleeping for the past over four years."
Uddhav Thackeray, along with his wife Rashmi and son Aditya, was in Ayodhya on Saturday to take part in the 'Ashirwad Sammelan' at the Lakshman Quila ground organised by the Shiv Sena.
"The real 'Kumbhkaran' slept for six months. But this 'Kumbhkaran' (Modi government) is sleeping for the past over four years," said Thackeray while addressing Shiv Sainiks at the sammelan.
"I have not come here to fight with anyone or take credit for construction of the Ram temple. You (BJP) construct the temple and take credit," he said.
"I have come to Ayodhya not for political reasons but for Ram Mandir and due to Hindu ideology," Thackeray added.
"I will pay obeisance to Ram Lalla and Ram Janmabhoomi for the first time. Now, I will regularly come to Ayodhya," added Thackeray.
Quoting his father, late Balasaheb Thackeray, he said: "My father used to say that Hindutva is in air that we breathe. What will happen if we forget to breathe."
"For how long we have to wait for Ram Mandir," he asked.
The Shiv Sena chief also took a jibe at the BJP's famous slogan 'Mandir wahi banayenge'. "Mandir wahi banayenge par tarikh nahi batayenge (we will construct temple but will not tell date," said Thackeray.
Now, we want the date, he asserted.
He exhorted the BJP government to bring ordinance for construction of Ram Mandir in Ayodhya.
"I have come to Ayodhya to remind (BJP) of its promise to construct Ram Mandir," said Thackeray.
The Shiv Sena chief emphasised that for demonetization, the government did not wait for any court order. "Now, for Ram temple why you are waiting for the court's order," he asked.
Attacking Prime Minister Narendra Modi on his alleged famous '56-inch chest' statement, Thackeray said: "It is not important to have a big chest. But you should have a heart in your chest."
"The Atalji government was a coalition government. So, I can understand compulsions of that government. But today we have a majority government at the Centre and in UP. So why the delay in construction of Ram temple? For how long will we have to wait for the temple," he asked.
Thackeray later performed puja of saints with full Vedic rituals at the Lakshman Quila ground to seek their blessings.
Mahant Nritya Gopal Das, head of the Ram Janmabhoomi Nyas, also attended the event. The Thackeray family welcomed Das before the puja.
"All residents of Ayodhya welcome the family members of Bal Thackeray. We hope that Shiv Sena plays an important role in construction of Ram temple," said Das.
On the occasion, Thackeray presented a silver brick to Das for the temple amid slogans of 'Jai Sri Ram' and 'Jai Bhavani-Jai Shivaji' raised by Shiv Sainiks.
The Thackeray family took part in 'Saryu aarti' on the bank of river Saryu, later.
"Uddhav Thackrey wants Ram temple in Ayodhya," said Sanjay Raut, Shiv Sena spokesperson.
Earlier, around 4,000 Shiv Saniks had arrived from Mumbai by two special trains for the 'Ashirwad Sammelan'.
Personalise your news feed. Follow trending topics