UP Lok Sabha by-poll: Will opposition unite to take on mighty BJP?
Jul 20, 2017 02:44 PM IST
There is speculation of opposition uniting against BJP in Uttar Pradesh for the imminent by-polls to two Lok Sabha seats.
The imminent by-polls to two Lok Sabha seats, currently held by chief minister Yogi Adityanath and deputy chief minister Keshav Maurya, has thrown up the prospect of a united opposition propping up a candidate against the ruling Bharatiya Janata Party (BJP) in Uttar Pradesh.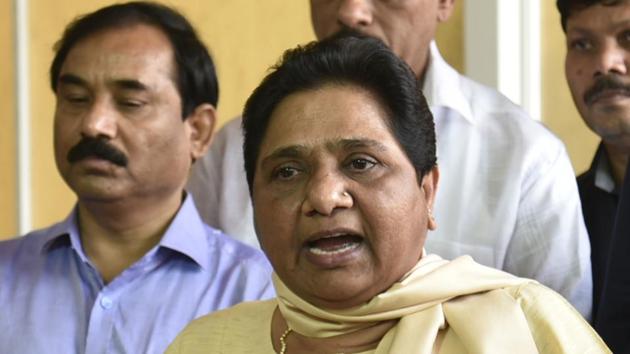 Already, for Phulpur two names are in circulation as the likely joint opposition candidate. While Krishna Patel, the Kurmi politician heading a marginalised faction of Apna Dal, has been doing round for long, the Tuesday Rajya Sabha resignation of Mayawati has also spurred talks of BSP chief contesting from the seat.
Chief minister Yogi Adityanath, a five-term MP from Gorakhpur and deputy chief minister Keshav Prasad Maurya, the first-time MP from Phulpur, in keeping with constitutional requirement, are expected to resign as MPs after the voting for new vice president on August 5.
The final strategy would be decided after BJP chief Amit Shah's visit to Lucknow by July end.
"The possibility of opposition testing itself in Phulpur is definitely there though as far as Mayawatiji is concerned I don't think it would make much of a difference to her since she considers herself beyond political contests," said Badri Narain, director of Allahabad's GB Pant Institute.
But BJP strategists who are aware of the 'opposition plan' say that while Yogi is certain to resign his Gorakhpur Lok Sabha seat, the party is still debating whether to let Maurya resign Phulpur, the seat that BJP won for the first time in 2014 Lok Sabha polls.
"Mauryaji was among the contenders for the CM's post. Now that Yogiji is firmly in, the party could even consider elevating Maurya as a union minister where a cabinet reshuffle is likely after the election of the new President and Vice President," a BJP source told HT.
Sending Maurya to the centre would also end two power centres that many believe are at play in UP. It would have the added advantage of puncturing the opposition game plan that would come into play only if Maurya resigns.
There is speculation of opposition uniting against the BJP candidate in Gorakhpur as well but unlike Phulpur, Gorakhpur has been a saffron citadel for long. With Yogi at the helm, BJP is confident of thwarting any opposition plan in this crucial east UP seat.
Read more| Mayawati's Rajya Sabha resignation: 'Masterstroke to tighten grip on her Dalit votebank'
"Before Mayawati quit Rajya Sabha, people had approached the top Samajwadi Party leadership with a proposal to consider supporting Apna Dal leader and union minister Anupriya Patel's mother Krishna Patel from Phulpur as the constituency's OBC caste matrix supports her. Now, Mayawati, assuming her resignation isn't rejected on technical grounds, is also an option though there is the fear that her being a Dalit might polarise OBC voters into voting for the BJP," a source said.
"Phulpur could well become a mini opposition laboratory to test its larger 'mahagathbandhan' or grand alliance plan to stop the BJP in the 2019 Lok Sabha polls," says Athar Siddiqui from the Centre of Objective Research and Development.
"It's premature to discuss that (Mayawati as joint candidate from Phulpur)," says Samajwadi Party leader Rajendra Chowdhary even as Professor MP Dube, the vice chancellor of Uttar Pradesh Rajarshi Tandon Open University felt Mayawati may not gain politically if she decides to contest from Phulpur.