Uttar Pradesh CM: New law to check organised crime soon
Jul 20, 2017 02:50 PM IST
Law to check organized crime has been announced by UP Chief minister Yogi Adityanath.
Chief minister Yogi Adityanath announced on Wednesday a new law to check organized crime and said his government was recommending a CBI inquiry into Provincial Civil Service (PCS) officers' appointment during the SP regime in Uttar Pradesh.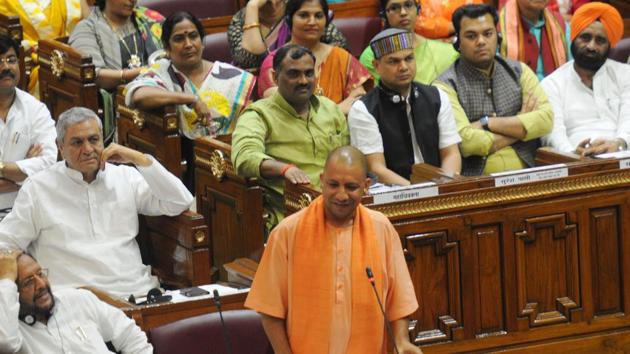 "We will enact a tough law with stringent provisions to ensure action not only against the criminals but also against those patronizing them. We will bring the new law either in the ongoing session of the state legislature or in the next one," said Yogi in a hard hitting reply to the debate on general budget in state assembly on Wednesday.
"Every citizen has a right to live. This government will make life difficult for those who cause problems in the life of others. About 1.5 lakh posts are vacant in police and doubts have been raised on every appointment made in the past 10 years. This was mainly because intentions were not clear. We are recommending a CBI inquiry into PCS appointments made (by Uttar Pradesh Public Service Commission) since 2012 as injustice has been done to the state's youth. A senior leader in Haryana is still languishing in jail for irregularities in appointments. This may happen here as well," said Yogi amid thunderous applause from the treasury benches.
"We are told that papers regarding recruitment had been set on fire. No one will be able to save himself by burning recruitment papers. We will make 1.5 lakh appointments in police in next three years in a transparent manner. This will include recruitment on 30000 posts of constables and 3200 posts of sub inspectors this year," said Yogi.
Yogi launched a counter attack on the opposition for its tirade against his government on issues concerning law and order and accused the Samajwadi Party of patronizing criminals. He said 14 persons, including Mulayam Singh Yadav (SP patron's namesake), had been arrested for Azamgarh hooch tragedy. "Is it not true that that the SP had been patronizing them. Is it not true that those accused of murders in Rae Bareli are not linked to the SP," he asked.
The SP and the BSP had apparently joined hands in the house while Congress did not appear concerned about the development, he said.
Yogi reiterated that his government would not allow illegal slaughter houses to function under any circumstances. Action would be taken against those indulging in pushing up rates of construction material – core sand and sand etc. "I will be free after the budget session and act against those indulging in price hike of minor minerals."
Yogi said his government though would not touch the innocent, those guilty would not be spared. He said cases of murder had come down by 5.16 percent while road holdup incidents were down by 100 percent during the tenure of his government.