Veggies, fruits becoming storehouse of toxic chemicals, warn scientists
Published on Aug 25, 2018 03:36 PM IST
Pesticides, heavy metals, chemicals injected for faster growth and artificial colours are turning 'green' and 'fresh looking' vegetables and fruits in the market into health hazards for the common man, scientists warn.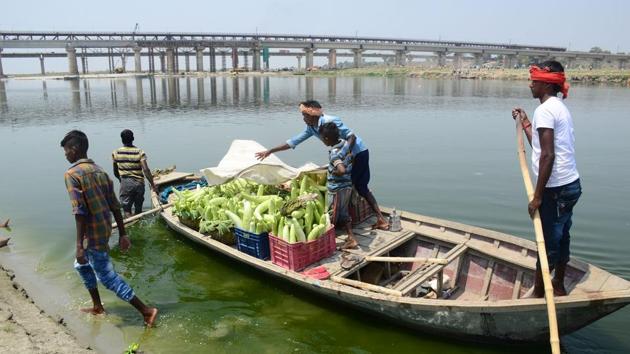 Pesticides, heavy metals, chemicals injected for faster growth and artificial colours are turning 'green' and 'fresh looking' vegetables and fruits in the market into health hazards for the common man, scientists warn.
Neetu Mishra, associate professor in the Allahabad University's home science department, says vegetables are contaminated by dirty water, untreated manure, pesticide, insecticide, and artificial colours during production and storage. These factors increase the risk of microbial and other contamination at all points from farm to fork, she adds.
"Most of the vegetables are either eaten raw in the form of salads or after minimal processing. Common salad vegetables like tomato, cucumber, radish, carrot, lettuce, beet root, if not handled properly, may cause nervous breakdown, neurotoxic complications and sterility," she adds.
Prof SI Rizvi of Allahabad University's biochemistry department says vegetables are injected with the mammalian hormone Oxytocin to increase production and speed up their growth.
However, when ingested, these hormones play havoc with the human system, prof Rizvi warns.
Experts feel the sale of harmful colouring substances and adulterants should be regulated to discourage their rampant use in vegetable production.
Awadhesh K Rai, professor and head, department of physics, Allahabad University, says industrial waste is the major source of water and soil pollution.
Rai has done research on the issue, using the latest Laser Induced Breakdown Spectroscopy (LIBS).
"We know that the elements like Chromium (Cr), Lead (Pb), Nickel (Ni), and Cadmium (Cd) etc are hazardous. They come from the waste of leather industries, electroplating industries like those in Kanpur. Chromium salts (chromium sulphate, chrome) are being used in the leather tanning industries. Lead salts (lead chloride, lead sulphate, lead oxide etc) are being used in the battery and electroplating industries," he says.
"To determine the spectral signature of these elements, we have used the LIBS technique which is better for the study of such samples. We have studied the toxic elements present in the industrial sludge using this technique," he adds.
Rai says his team has collected industrial waste from different sections of water treatment plants, where liquid waste of several industries come for treatment.
"In our study, we analysed LIBS spectra and identified spectral lines of different elements like Cr and Pb. Spectral lines of Calcium (Ca), Magnesium (Mg) and Iron (Fe) etc indicate that these elements are also present in the sludge. We have also calculated the concentration of these elements in the sludge, which clearly show that the concentration of the toxic elements like Cr and Pb are very high in the industrial waste, which is very dangerous to the people in these areas," he adds.
Prof Rai said the farmers living in the areas close to such industrial and leather units are using waste water to irrigate their crops. The toxic metals present in the waste were entering in the plant, grain/food in this area.
"Our group has also performed the detection and quantification of the toxic metals in wheat, mustard plants and their grains and found that the level of toxic metals like Cr, Pb, Sb, to be very high," he adds.
Under guidance of Neeru Bala, associate professor, department of food nutrition and public health, Ethelind College of Home Science, SHUATS-Allahabad PhD scholar Pravisha Pandey carried out a research related to quality assessment of leafy vegetables grown in periphery of Allahabad district.
"Data was collected from various sites of Allahabad district, namely Naini, Jhunsi, Mundera and Phaphamau where vegetable growers were using sewage and waste water for irrigation. Various heavy metals like cadmium, chromium, copper, lead, nickel and zinc etc, were found in the leafy vegetables," Bala says.
She says the intake of metals per person/day and their health risk index have also been analyzed. The findings have shown that the heavy metals content of sewage/waste water irrigated vegetables for all the HM in all the selected leafy vegetables of Naini areas are higher than other places.
As for traders, looks fetch good money and count more than safety.
"Everyone is looking for fresher looking vegetables these days. An average gourd sells for Rs 10 to Rs 15 while another one which is bigger in size fetches Rs 20 and above. So most traders opt for looks as that is what customers want and buy," says Rajesh Sonkar, a vegetable trader at Mundera Mandi in Allahabad.
As for farmers, shrinking farmland, rising input costs and unfavourable weather gives very little leeway.
"I grow vegetables on the banks of Ganga for around six months a year. At other times, either the water level is very high or the annual Magh Mela takes up the land. I use river water to irrigate the crop manually with help of my whole family. However, when the water level goes too down and we are unable to fetch the water, we use whatever nearby sources we can to keep the plants alive," says Jainarayan Yadav, a seasonal farmer and resident of Shivkuti.
Personalise your news feed. Follow trending topics