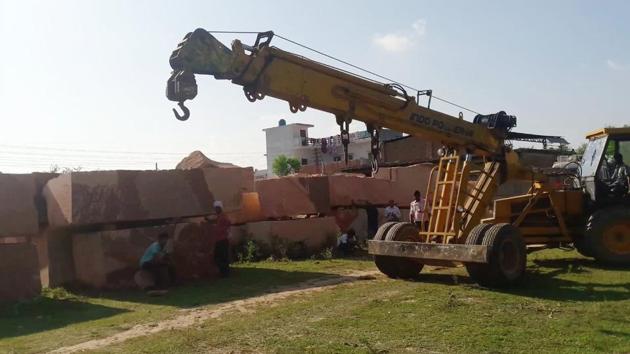 VHP speeds up stone carving at Ayodhya workshop
The Vishwa Hindu Parishad has expedited stone carving work at its Ramsewakpuram workshop in Ayodhya for construction of Ram temple.
PUBLISHED ON OCT 17, 2017 01:19 PM IST
The Vishwa Hindu Parishad (VHP) has expedited stone carving work at its Ramsewakpuram workshop in Ayodhya for construction of Ram temple.
The move comes at a time when the state government is all set for a grand Diwali celebration in Ayodhya on Wednesday.
Three truckloads of stones were unloaded at Ramsewakpuram on Saturday and Sunday.
The stones were transported from quarries at Bharatpur in Rajasthan. Volunteers deputed by the VHP supervised the transportation of the stone and its carving.
Sharad Sharma, a VHP leader, told HT 27 trucks of stone were unloaded at the workshop since September.
He admitted that the administration had disrupted the supply of stones to the Ramsewakpuram workshop during the Samajwadi Party regime, slowing down the carving of stones. But, after the formation of the BJP government, the supply of stones resumed.
He also said a Dharm Sansad scheduled at Udupi in Karnataka on November 24-26 will discuss construction of the Ram temple in Ayodhya. Prominent saints members of the Ram Janmabhoomi Nyas will deliberate on plans to expedite construction work.
The VHP has hired 12 artisans for carving stones and construction of pillars.
"We will urge the saints to expedite the stone carving work and increase the strength of the craftsmen. The VHP will hire artisans from Rajasthan and Gujarat who are expert stone carvers," Sharma said.
A senior VHP leader said the Uttar Pradesh Shia Central Waqf Board's support had given a boost to the demand for a grand Ram temple in Ayodhya.
Though the matter was in court, efforts were being made to resolve the issue out of court too, he said.
Shia Waqf Board chairman Waseem Rizvi's decision to offer land for a 100-metre high statue of Lord Ram on the bank of the River Saryu had strengthened hope of both groups joining hands for construction of the temple, he said.
Alok Pandey, a primary school teacher at Ayodhya, said senior BJP leader Subramanian Swamy's statement that the next Diwali will be celebrated in the newly constructed Ram temple has rejuvenated the saffron brigade.
Meanwhile, all eyes are on grand Diwali celebrations on Wednesday when over 171,000 earthen lamps will be lit to celebrate the festival that marks the return of Ram to Ayodhya after an exile of 14 years. Governor Ram Naik and chief minister Yogi Adityanath will be present at the function. The chief minister will participate in ritual coronation of Lord Ram on the bank of the Saryu. He will also launch a Rs 134 crore project for development of the temple town.
Caption: Stones unloaded at Ramsewakpuram in Ayodhya for Ram temple construction. HT Photo
Close