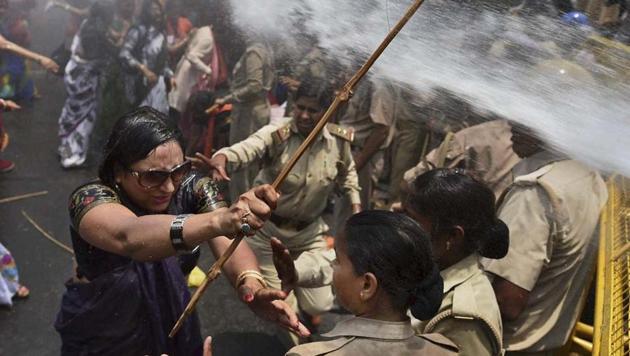 Wardrobe change: Women cops in UP to don khaki tunic instead of shirt
This is being done in accordance with a new government order reportedly aimed at effecting gender sensitisation in the police force.
Hindustan Times, Allahabad/Lucknow | By Farhan Ahmed Siddiqui
UPDATED ON MAY 18, 2018 01:19 PM IST
Non-gazetted policewomen across Uttar Pradesh will now wear tunics instead of shirts, in keeping with a new government order reportedly aimed at effecting gender sensitisation in the law-enforcement force.
This is the first time a gender-specific 'khaki' uniform has been introduced in the state.
"The uniform has been designed keeping in mind the comfort and convenience of women cops," said BP Jogdand, additional director general (ADG) at the police headquarters in Allahabad.
The changes were suggested by the Allahabad police headquarters after recommendations to this effect were made at the 7th National Conference of Women in Police in January 2016. Jogdand said the suggestions were forwarded to the state government after its endorsement by the Uttar Pradesh director general of police on November 8, 2017. It was on the basis of these recommendations that state government secretary OP Verma issued the order, he added.
"The order reads that the shirt will be worn like a tunic, and it will fall till a few inches above the knee," said a senior police officer at the Allahabad police headquarters. "It will be more comfortable and attractive than the earlier one."
Double-collared with four pockets, the tunics worn by these policewomen will change from half-sleeved in the summer to full-sleeved in the winter. "It will also have four loops to accommodate a fabric belt (newad) and prominently bear the logo of the Uttar Pradesh police," the office said.
However, no changes have been made to the trousers included in the uniform.
Atarsuiya police station house officer Anshul Pandey welcomed the changes, stating that the new uniform was aimed at making the police force look smarter. "The design is attractive, although the tunic looks heavier than usual shirts. Nevertheless, it will be very comfortable to wear in the winter," said Pandey.
The move comes a few days after the state police department changed the design of caps worn by constables across the state. According to the new directive, all constables and head constables should compulsorily wear khaki woollen berets instead of folding caps.
Close