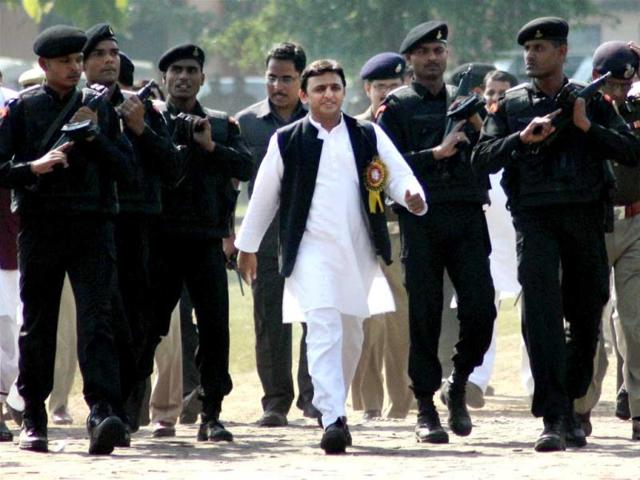 'We will not hold BJP'S hand for power at the Centre'
At the time when his government is under a cloud for non-performance, Akhilesh Yadav smiles and tells HT that he is confident of the voters' support on development.
Hindustan Times | By Sunita Aron
, Lucknow
UPDATED ON JUL 29, 2013 12:59 PM IST
Samajwadi Party state president and chief minister Akhilesh Yadav says every party worker wants netaji ( Mulayam Singh Yadav) to enter the Lok Sabha with overwhelming numbers.
At the time when his government is under a cloud for non-performance, he smiles and tells HT that he is confident of the voters' support on development.
Excerpts:
Are you determined to see your father in the Prime Minister's chair?
The SP got a majority in UP because of netaji's vision, public support and workers' hard work.
As and when required, he has played a key role in national issues - in combating communal forces, in supporting the nuclear deal and in asserting China as an 'unreliable partner'.
And he has been proven right. He is a veteran and we all are determined to see him walk into Lok Sabha with a big chunk of MPs. He himself is reviewing the poll preparedness in each and every constituency.
Irrespective of what the surveys say, we will do well.
But the surveys predict major gains for the BJP?
I don't want to comment on the surveys because they must have had their own basis.
But, I am sure the public will vote for our development plank and will not fall into the trap of communal or caste forces.
We have dissected each and every case that has been highlighted by the media as communal riots and found the hand of these forces in spreading disharmony.
They want election on communal and caste lines, but they will fail in their designs. People will see through their games and vote for development.
People appear disappointed with your development plank? Your take.
Our manifesto is our agenda and we are on the track. People will see the work on the grounds before 2014 elections.
For five years, the Congress had been struggling for land to set up an All India Medical Institute and Indian Institute of Hotel Management.
They have got the land.
We are moving ahead in power sector with an ambitious scheme for time bound supply of power; in the health sector with new hospitals, we have come up with solar energy policy etc.
Many think law and order was better during the Mayawati regime?
I don't want to talk about statistics but would quote the promptness with which action has been taken in each and every case.
But that never gets highlighted.
Somehow I feel when opposition does not find any potent issue to nail the government, it starts drumming up the law and order issue.
Modi effect can make Muslims dump SP for a national party, like the Congress?
This is not the first time we are hearing this regional versus national debate.
Faces might have changed but ideology has always remained the same.
As for the Congress, they have many questions to answer --on rupee devaluation, poverty yardsticks, Chinese incursions etc.
So you see a possibility of a non Congress, non-BJP government at the centre?
People want a third force government at the centre which is pro farmer, pro youth.
Though much would depend on the numbers, I can only say that the SP will play a major role and this is the reason why we are being attacked.
Our adversaries want to stop us in the tracks and are making every effort to defame us.
They criticise us for distributing laptops, which for me opens a window for the young. Now even Rajasthan and Delhi are aping us.
During my visit to Bangalore, I said soon UP guys will capture the job space as their government was not distributing laptops.
How is the response from other regional parties?
I have been to Madhya Pradesh, Andhra Pradesh, Rajasthan, Karnataka and Tamil Nadu and we all want an alliance. They are watching UP with a keen interest.
We are also getting a rousing reception everywhere.
Will you take support from BJP or NDA if you fall short of numbers?
No, never. We will sit in the opposition.
Even with 40, we remained in the opposition for almost a decade.
The prospective third front should have a policy framework ready ?
All of us will be spelling out our national priorities and issues in our election manifestoes. What about the disproportionate assets case?
What about the disproportionate assets case?
No comment.

Close