Go eco-friendly this Ganesh Chaturthi with idols that grow into trees
For Ganesh Chaturthi 2018, protect the environment by opting for eco-friendly Ganesha idols that can dissolve in water, grow into trees, or can be recycled.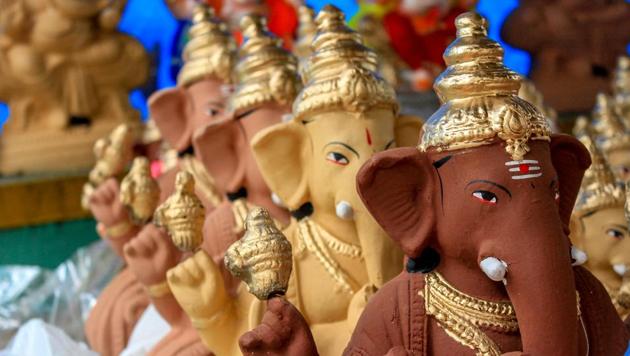 Updated on Aug 04, 2018 11:05 AM IST
With an aim to keep the environment safe, artisans in Mumbai are adopting eco-friendly ways to make the idol of Lord Ganesh, ahead of Ganesh Chaturthi. Ganesh Chaturthi, a ten-day festival which starts on the fourth day of the Hindu luni-solar calendar month of Bhadrapada, is due in September.
Artisan Dattadri Kothur has been making idols using eco-friendly clay to promote a unique concept of Tree Ganesha. The most striking feature about the idol is the fact that it has a seed inside and can be grown into a plant by pouring water, after the festival ends.
"On the day of immersion, you can take the idol to the balcony, terrace or garden and much like you water plants, you pour water on the idol. The idol will dissolve and in four to ten days, a plant will come out of it," Kothur said.
Artist Rohit Vaste has been making idols of Lord Ganesh with paper so that it can be recycled later on. These days, even decorative items used in pandals are made out of eco-friendly materials.
Follow @htlifeandstyle for more
Close Story