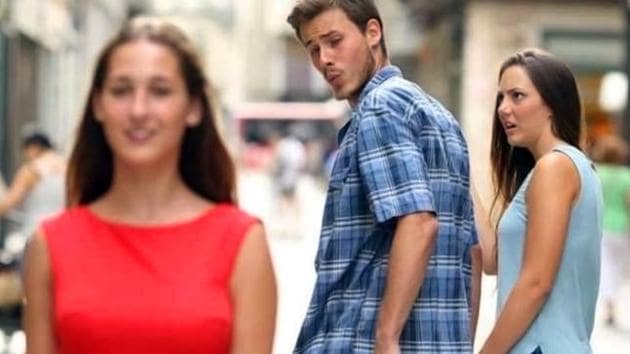 Here's the 'shocking' discovery behind the 'distracted boyfriend' meme
Twitter user Ernie Smith has dug out some 'shocking' information about the girl in 'distracted boyfriend' meme.
PUBLISHED ON JUN 29, 2018 12:24 PM IST
If you haven't come across the "distracted boyfriend" meme on your social media feed, then you really must be living under the rocks.
Noted as one of last year's best memes, the photo shows a man checking out another woman walking past on the road while his girlfriend looks on in utter shock and disgust.
A Twitter user Ernie Smith has now made some "shocking" discovery about the girlfriend in the photo. Turns out, the girl has appeared in a number of stock photos and her expression is pretty much the same in all of them.
Go on, take a look.
Looks like, she is perpetually shocked.
Oh God! There's no end.
Conclusion: She is in constant shock almost all the time.
These photos were taken by Spanish photographer Antonio Guillem, who has been working with the two models, whose stage names are Mario and Laura, for a very long time.
The original photo that became the fodder for internet memes was captioned as "Disloyal Man Walking With His Girlfriend and Looking Amazed at Another Seductive Girl".
Guillem had no idea that his photo would become such a hit on the internet.
"I didn't even know what a meme is until recently," Guillem told The Guardian.
"The models discovered the meme on social media and they told me about it. None of us could imagine the media repercussion that it has reached right now," he said.
Here's a quick recap of some of the "distracted boyfriend" memes.
Close