Scoop the poop, if you let the dogs out — that's South Delhi Municipal Corporation's message to pet owners
An on-the-spot fine of
₹
500 will be issued to those who do not clean up after their pets — here's what people have to say.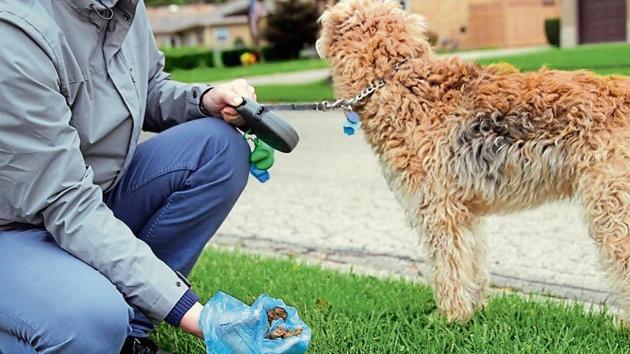 Published on Mar 30, 2018 06:14 PM IST
Morning. South Delhi. Action! "Rolla paa rakha tha. Har roz di gal hai (This is a daily nuisance!)," shouts Sushma Gauba, a homemaker in Safdarjung Enclave, seeing dog poop outside the gate of her house. But this isn't Sushma's woe alone; the disgust is echoed by several others in various parts of Delhi. Stray animals can be excused, but what about pet owners who happily let their dogs poop anywhere in the society, and don't care to clean after their pets?
Well, they will be fined now! The South Delhi Municipal Corporation has approved the proposal to issue an on-the-spot fine of ₹500 for people who do not clean up their dog's faeces. Soon, directions will be given to sanitation workers to collect the penalty. Earlier in 2015, the Animal Welfare Board of India had advised pet owners and Resident Welfare Associations (RWA) to amicably come up with ways to dispose of animal excreta to maintain clean environs. Clearly, many haven't been following that.
"One of my neighbours' dog would always poop outside my house. I despised the sight, and one day, I furiously told her to take her dog elsewhere. My neighbour laughed and said, 'My dog likes to do it here; can't help.' I got the poop picked, and kept it right in front of her gate. Since then, the dog hasn't pooped outside my gate," shares Gauba with a laugh.
But this could well be a poop... er, bone of contention among residents, leading to further quarrels. If the pet is the owner's responsibility, so is its poop. And the South Delhi Municipal Corporation seems to agree.
Harsh Khaneja, a resident of Kailash Colony, believes that such a rule is necessary to change people's attitudes. "When I take my five-year-old Indie dog, Lola, out for walk, I carry a newspaper along to pick up her poop. I've even instructed my house help to do the same in my absence. But, I see many others not bothered about littering the society. No point in saying anything to them lest we want to break into a heated argument. Only a rule will force them to respect public places," he says.
Several parks in South Delhi colonies have signboards on the gate, banning the entry of dogs in the park. "People find it easy to take their pets for a walk to the park, and let them poop there because usko saaf to koi aur karega (someone else will have to clean the park). That's why we spoke to our RWA and banned pets in our park," says Meenu Sharma, a resident of Amar Colony.
Gauri Mulekhi, trustee, People for Animals NGO, agrees that pet owners must keep their neighbourhood clean, but adds that animal poop is a "minuscule problem" harming the environmental. She adds that the corporation should first focus on "properly disposing solid waste from homes and industries, which pollutes the environment the most. We can't victimise pet owners every time," she says.
But, by penalising pet owners on not cleaning their pet's poo, "The corporation is trying to deflect people's attention," says Gauri Mulekhi, trustee, People for Animals NGO. She adds that in a county where solid waste disposal is a major concern, "Pet poo is a minuscule problem. People should be encouraged to keep their environment clean, but the first penalty should be charged from the commissioner of corporation for not being able to properly dispose solid waste from homes and industries, which pollutes the environment the most. We can't victimise pet owners every time."
Interact with the author on Twitter @HennaRakheja
Close Story